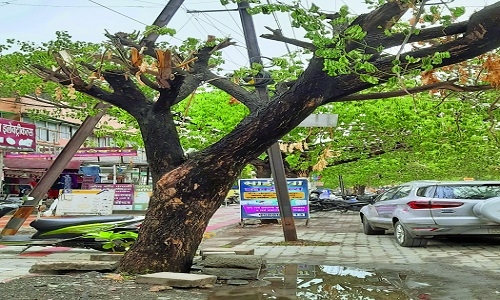 Staff Reporter
With arrival of monsoon, the cases of illegal tree-trimming in city have increased drastically. On one hand Nagpur Municipal Corporation (NMC) has banned trimming of trees without permission. On the other, citizens are taking help of some gang of illegal tree-fellers in the city.
The gang, which is active in every corner of the city, offers its 'so called' service at a nominal cost for trimming of trees that are restricting the view of shops, showrooms, and residences.
The roadside trees from Basweswar Putla Square to Dattatray Nagar Square were half trimmed by these tree-fellers without any permission from the civic body. Almost 50% branches of more than 10-15 trees have been chopped resulting in shifting load towards the road and also the trimming disturbing the centre of gravity of those trees.
Such trimming may cause uprooting of trees during monsoon and also risking the life of commuter. The green activists had raised the issue of illegal tree-fellers before the Municipal Commissioner a few months ago. As a result, the Commissioner assigned a task to Nuisance Detection Squad (NDS) to take action against such tree-fellers and also impose fine on people who hire them to trim or chop trees
in city.
After this decision, NDS took action against many residents of city but with start of monsoon the gang is again active.
In another incident, a full-grown mango tree was trimmed by a showroom owner in Dharampeth area on Monday. After getting the information, green activists and nature lovers reached the spot and stopped the trimming. They also informed NMC about the illegal activity.
After getting information, team of Garden Department reached the spot and conducted Panchanama. The team also served notice to the owner of the showroom.
Surbhi Jaiswal, Team Lead of Green Vigil Foundation said, "After recent amendment in Urban Tree Act, it has become very difficult to get permission for cutting any tree from root, hence, as a new tactics, people seek permission to trim a few branches which is relatively easy to get and as they permission of trimming branches, citizens with the help from tree cutting gang are chopping down maximum number of branches.
Green activist Mehul Kosurkar said, "The branches of the tree were cut as it was interfering with visibility of the newly built showroom. NMC has given permission to cut couple of branches only but we observed at site, there has been massive cutting of branches.