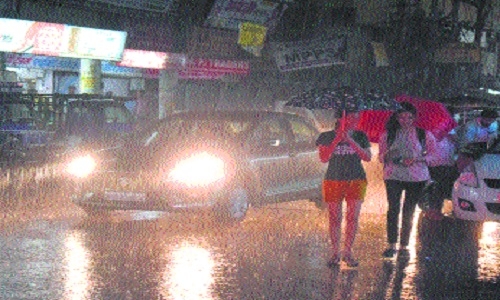 Staff Reporter
Monsoon is gaining momentum in Madhya Pradesh. After a day's heat and humidity in the State capital, it rained heavily in the evening bringing relief from heat. Apart from this, Satna received 1 inch of rain on Wednesday itself. There was light rainfall in Indore, Khandwa, Dhar, Khargone and Gwalior. Due to the formation of a local system, it is raining heavily for half-an-hour, but the water is not falling continuously. In many areas, up to 4 inches of water has fallen in a few hours.
According to the Meteorological Department, there is no possibility of continuous rain for about 7 days.
At present, only the CB (Cumulonimbus) cloud will be seen. In such a situation, due to increased heat during the day, there will be heavy rain till evening. There is a possibility of good rain by the end of June.
Low-pressure areas are not being created: Meteorologist PK Saha told 'The Hitavada' that the monsoon has become active. It is raining well across the state. At some places, more than 4 inches of water is falling, but due to the lack of low-pressure in the Arabian Sea and the Bay of Bengal, it is falling due to the formation of local systems and moisture. As of now, there is no system in place. In such a situation, one may have to wait for at least a week for continuous rain. Continuous rain is expected only after the end of June i.e. 28. Wait for monsoon in these areas: The northern boundary of southwest monsoon is passing through Porbandar, Baroda, Shivpuri, Rewa. Except for some areas including the districts of Chambal division and Gwalior, then monsoon rains are falling all over the state. During the last 24 hours, it rained in Bhopal, Ujjain, Tikamgarh, Indore, Guna, Khandwa, Khargone and Dhar districts of the state. In Khandwa, the water fell for about 2 inches.
The day's temperature has dropped. Maximum mercury reached 33 degrees in Bhopal. Indore and Jabalpur recorded 33 degrees Celsius, while Gwalior recorded 37 degrees Celsius. Light to heavy rain may occur at isolated areas of Dindori, Betul, Balaghat, Rajgarh, Raisen, Dhar, Ujjain, Anuppur, Mandla and Seoni districts. The districts of Rewa, Shahdol, Sagar, Jabalpur, Gopal, Narmadapuram, Gwalior, Chambal, Indore and Ujjain divisions may receive thunder and lightning.