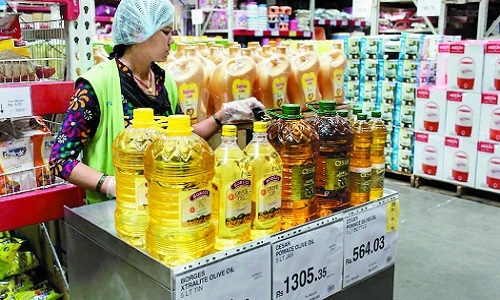 Business Bureau
The edible oil prices are witnessing a fall of Rs 100 per 15 kg tin to Rs 150 per 15 kg tin in the wholesale market. This has provided some comfort to the consumers who are under the burden of high inflation.
"The fall in edible oil prices can be attributed to various factors like slower demand in the domestic market coupled with drop in prices in the international market and Government measures like exempting customs duty on import of 20 million tonne (MT) of crude soyabean and sunflower oil to contain the domestic prices," said Rajesh Thakkar, President of Oil Merchants Association and owner of Shantilal Oils Pvt Ltd, Itwari while speaking to The Hitavada.
"All these factors have contributed in lowering the edible oil prices from rising further in the domestic market. Traders are expecting a further fall of Rs 3 per kg to Rs 4 per kg in the retail market in July," he said.
The situation in the international market has slightly improved. One of the largest exporting countries Indonesia which had banned exports of palm oil has now resumed exports, he pointed out.
The edible oil prices across all varieties flared up in March and reached record high levels on account of lower production in the international market coupled with the Russia-Ukraine conflict, Thakkar said. In wholesale market, the edible oil prices have dropped by Rs 100 per 15 kg tin to Rs 150 per 15 kg tin across various varieties except groundnut oil. The soyabean oil prices are being quoted at Rs 2,450 per 15 kg tin, as compared to Rs 2,600 per 15 kg tin about 20 days ago, Thakkar said. Similarly, palm oil is being quoted at Rs 2,350 per 15 kg tin from the earlier Rs 2,500 per 15 kg tin, while groundnut oil prices are being quoted at Rs 2,750 for 15 kg tin and rice bran is being quoted at Rs 2,350 per 15 kg tin, he said.
While sunflower oil is priced at Rs 2,620 for 15 litre tin as compared to earlier at Rs 2,700 for 15 litre tin, he mentioned.
In retail, soyabean oil is available at Rs 160 to Rs 165 per litre, groundnut oil at Rs 190 per litre, rice bran at Rs 155 per kg and sunflower oil at Rs 190 per litre to Rs 195 per litre, he said.
"India is mostly dependent on international oil prices as imports constitute more than 60 per cent of the domestic consumption requirement in a year. India's total domestic consumption is about 2.10 lakh tonne to 2.15 lakh tonne per year. While domestic production is 90 lakh tonne to 95 lakh tonne whereas the imports are nearly 1.15 lakh tonne annually," he said.