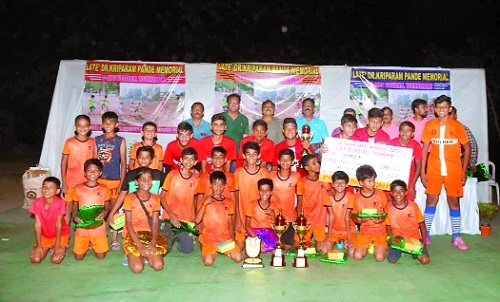 Sports Reporter
NOBLE Sports Academy claimed the Under-10 and Under-13 titles while Big Ben lifted the Under-15 crown in the KR Pande Memorial 5-a-side Football Tournament organised by Big Ben Football Academy at RTM Nagpur University ground, Ravi Nagar.
Sagar Nandanwar (5th, 15th) scored a brace while Dipanshu Chaple (25th) added one more as Big Ben blanked Noble Sports Academy 3-0 in the one-sided Under-15 final.
In the U-13 title match, Noble Sports Academy's Abhimanyu Bhojne (18th, 28th) found back of the net twice for a 2-0 lead but in the same minute, Big Ben's Praneel Bhattacharjee (28th) reduced the margin. In the very next minute, Dhruv Ray (29th) made sure there were no further comebacks
The Under-10 final was also played between the same sides with Noble once again getting better of their opponents.
Riding on goals from Likhit Sontakke (22nd) and Akanshu Borvikar (28th) Noble recorded a Big Ben 2-0 win in the summit clash. The winners received glittering trophies. Roop Kumar Naidu, former international handball player; Ravindra Pundlik and Vinay Agrawal were the guests of the prize distribution function. Atmaram Pande, Director, Big Ben Football Academy; Atul Neware, Nayeem Ansari, Siddharth Kale, Ajay Jichkar, Rakesh Tiwari, Swapnil Neware, Harsh Labade were also present on the occasion.
RESULTS
Final Under-10: Noble Sports Academy 2 (Likhit Sontakke 22nd, Akanshu Borvikar 28th) bt Big Ben 0.
Final Under-13: Noble Sports Academy 3 (Abhimanyu Bhojne 18th, 28th, Dhruv Ray 29th) bt Big Ben 1 (Praneel Bhattacharjee 28th).
Final: Under-15: Big Ben 3 (Sagar Nandanwar 5th, 15th, Dipanshu Chaple 25th) bt Noble Sports Academy 0.