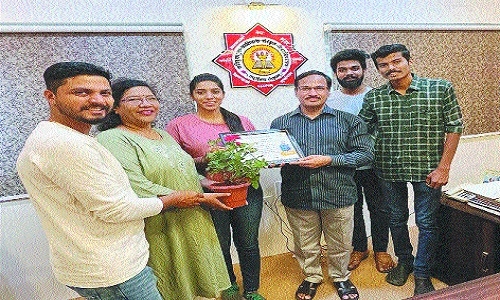 Sports Reporter
AAKASH Sawarbandhe and Alisa excelled in second edition of Online International Yoga Championship that concluded recently. The event was organised by Yoga Life Centre, Nagpur, affiliated to YK Group of Institutes in memory of Dr Sudhir Lekurwale.
Sawarbandhe and Alisa won gold medals in the open men and women categories in the traditional yoga events. Top six finishers in each category were honoured.
In the men's open category, Sawarbandhe was followed by Dadasaheb, Sudhanshu Shekhar, Vinayak Kongi, Chinni Krishna and Sujit Debnath. In the women's event, Alisa led the group including Sharmila Debnath, Suchitra Debnath, Rekha, Rakhi Chatterjee and Parita Barapatre, who took second to sixth place respectively. In the inventive yoga event, that carried more prize money, the top six were as follows — Nidhi Dogra, Rajdeep Dalal, Saathi Mondal, Raju Mane, Ketaki Chugule and Nakshatra Shetty.
Apart from India, the championship saw the participation of players from many countries including Singapore, Vietnam, Kazakstan, North America and Mexico.
Top three players in each category got cash prize of Rs 3000, Rs 2000 and Rs 1000 in traditional yoga while the top players in inventional yoga got richer by Rs 5000, Rs 3000 and Rs 1500. The prize distribution function was attended by Dr Madhusudan Penna, Vice-Chancellor of Kavi Kulguru Kalidas Vishwavidyalaya; District Sports Officer Pallavi Dhatrak, Krida Bharati's Dr Anil Karwande, Dr Madhvi Mardikar and international yoga player Dhanshree Lekurwale.
RESULTS Age Group 5-10 years: Boys — Anup Acharya, Shriyash Sawant, Vivaan Pimpalkar, Varad Nandanwar, Kavyaansh Kolhe, Shivaansh Keljharkar. Girls — Suprabha Sarkar, Shalini Dey, Natika Dhole, Srushti, Savi Thakre, Anvi Pawar.
Age Group 10-18 years: Boys — Avrajit Saha, Aayush Bhavnik, Kaustav Banerjee, Rajdeep Dalal, Shrinandan Malpaani, Vinay Langure. Girls — Aryna Hutiat, Neha Koorse, Gargi Bhat, Sai Patil, Aarya Mendhekar, Avdhi Dadhe.
Age Group 18-25 years: Boys — Raju Mane, Gautam, Joseph, Nikhil Costa, Rakesh Sharma, Shiva K. Girls — Aasawari Bhomle, Malika, Selviya, Neha Pittohre, Sangita Thakur, Kalyani Bhande.