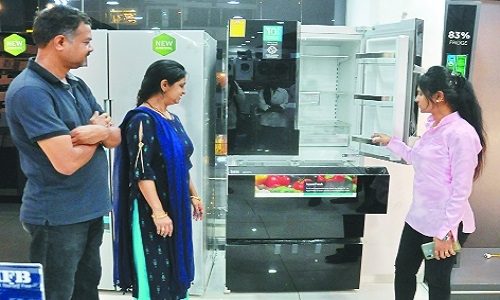 Business Bureau
The intense heat wave this summer lifted the demand for both refrigerators and deep freezers mostly used in commercial establishments. Traders dealing in the refrigeration business witnessed a rise in demand of 15 per cent to 20 per cent from March onwards. "With record high temperatures this summer season, the growth in demand for refrigerators expanded by 20 per cent, as compared to the year ago period," said Nihar Taori, Director of Taori Marketing while speaking to The Hitavada.
Usually the refrigerators are sold throughout the year, but this year it was special as after a gap of two years without any restrictions on the timings due to COVID-19 the traders got a large number of footfalls at their showrooms and were doing brisk business, he said.
"At our showroom the growth in demand for refrigerators was much higher than our expectations," he said.
"We could meet the huge demand despite the shortfall in supplies. There was no problem in meeting the demand at the entry level and mid segment refrigerators," he said.
Apart from household refrigerators the demand for deep freezers mostly used by commercial establishments like shops, restaurants, ice cream parlours etc., had increased by 10 per cent to 12 per cent.
"But, there were challenges in meeting the demand for the high end imported refrigerators with supply disruptions as most of the spare components come from China. Now most of the leading refrigeration manufacturers are manufacturing refrigerators in India itself, so that the supply gets streamlined," he pointed out.
Apart from this, the major refrigerator brands hiked the prices by 8 per cent to 9 per cent in April due to rise in input costs. Regardless of the rate hike there was good demand, Taori added.
Another leading dealer in refrigerators, Akshay Gandhi, Director of AKG Marketing, Dhantoli said that the demand for refrigerators jumped by 15 per cent to 20 per cent this summer season, as compared to the previous year. The most sought after refrigerators were for the 185 litre to 190 litre which are available in the price range of Rs 20,000 and Rs 40,000. In order to woo the consumers some of the brands are offering 8 year warranty, double door, three door, bottom mounted refrigerators.
Vedprakash Jaiswal, Director of Vedoms, Dharampeth said that there was huge demand for refrigerators along with air conditioners this season.