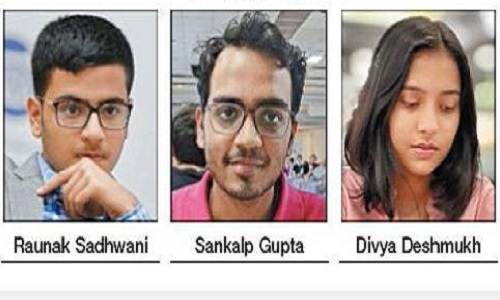 By Paritosh Pramanik
CHESS Grandmasters of the city are delighted to be part of the maiden Chess Olympiad Torch Relay which is going to take place in Nagpur on July 2.
This is for the first time that, on the lines of Olympics Torch Relay, the FIDE and AICF decided to organise the Olympiad Chess Torch Relay.
The 44th Chess Olympiad will be held in Mahabalipuram in Chennai from July 28 to August 10, 2022.
The historic relay, which was flagged off by Prime Minister Narendra Modi from New Delhi on June 19, will travel 75 cities across the country before reaching Mahabalipuram on July 27, where the tournament is going to be held.
The torch will reach Nagpur on Saturday morning where it will be received jointly by the District Sports Office and Chess Association Nagpur. From there it will be taken to Zero Mile.
City's first Grandmaster Raunak Sadhwani, Woman Grandmaster Divya Deshmukh and GM Sankalp Gupta, apart from other dignitaries will receive the torch.
Speaking with 'The Hitavada' Woman Grandmaster (WGM) Divya Deshmukh said she is happy to be part of the rally and thanked the government for the initiative.
"I am really happy to be part of this rally. I think this is a great initiative taken up by the government, AICF and FIDE. I was extremely happy when it was announced in Delhi that India is going to be the starting point for all the torch relays as chess originated in India," said Divya, who is part of the India contingent.
"I felt patriotic when our PM lit the torch and handed it over to Vishy (Viswanathan Anand) sir. It was a once in a lifetime opportunity and the fact that this is just my first Olympiad is even more wonderful. I can't actually believe that the Olympiad is happening (taking place) in India," added Divya.
Divya hoped that the relay in the city would help the game grow further. "It (the relay) will help chess grow and people will get more aware of this wonderful sport. I really hope chess reaches every child in India because honestly, it is really a good sport and I hope this relay will make people more aware about it." said Diyva, who was also praised by PM Modi in his speech last month during the flag-off.
City's first Grandmaster Raunak Sadhwani, too, said it is a proud moment for Indians, not only Nagpur. "The torch relay is a great and proud moment for all of us. It is a wonderful initiative to popularise the beautiful game of chess in our city.
"It's a great honour for me and I am really excited for the event and looking forward to becoming part of this historical, first of its kind event," Sadhwani proudly said.
GM Sadhwani said it was also a proud moment when he attended the opening ceremony in New Delhi.
"I also attended the torch relay from where it started (Delhi) in the presence of Modiji, Vishy Anand sir and Sports Minister Anurag Thakurji," added Sadhwani.
"This rally will definitely create awareness about chess. I appeal to all the schools and parents to teach this beautiful game of 64 squares to their children as it is the best mental exercise which improves memory and helps in focus and concentration," said Sadhwani.
Another GM Sankalp Gupta, who will also be with the Indian team as a practising partner during the Olympiad, said he is grateful to the AICF for including him for the relay.
"This is a historic moment for chess that a torch relay has been organised. I'm very grateful and proud to be part of it."
Gupta was also of the view that the relay will create a lot of awareness in the city.
"The relay will create a lot of awareness for chess and especially the Olympiad and I will say that chess is a gymnasium of mind and everyone should play," concluded Gupta.