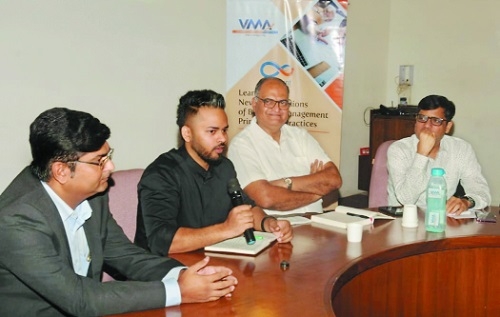 Business Bureau
The dynamics of market are constantly changing. They are often challenging and risky. Still, there is a lot of opportunities to explore in these challenges. Understanding the transitions with a positive attitude and grabbing the right opportunity can be a key to success, said sales experts.
The panel of experts Sanjive Pande of M S Pande and Sons, Shailesh Agrawal of Staffcould.net, Vivek Thakkar of Punit Super Bazar and Sujay Sabane of Eaat Street, Momo Hut deliberated in the discussion organised by Vidarbha Management Association (VMA) on the topic 'Channels of sales: Survival, risks and opportunities' on Sunday at Chitanvis Centre, Civil Lines, in the city.
Sanjive Pandey said, "Earlier, items were cheaper on on-line platforms than the items sold traditionally. But nowadays the prics are at par. Items are available at almost the same rate on both the platforms. Rather, off-line selling builds a direct customer-seller relationship. Customers are turning to local vendors again as they get help from vendors for after sales service," he said.
Shailesh Agrawal on the contrary added that through the on-line platform, manufacturers can showcase their products to consumers across the country.
Vivek Thakkar said, "There are big competitors in the markets and it would be constant. Customers have changing preferences, which needs to be catered timely. During
the recent outburst of pandemic, many small retailers started general stores," "he explained in detail about
small retailers who started the general stores.
Sujay Sabane said that he dared to set foot in the food industry at a time when all businesses were at a standstill during the Corona phase. He spoke in detail about the food industry.
Initially Rohit Dujari shared 'Augment Tip Remove.bg' app which helps in removing background, keeping it plane as well applying a newer one. The session was moderated by Pavan Sarda.