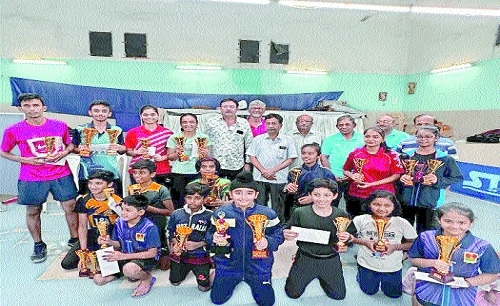 Sports Reporter
ANANYA Sakalkale and Adi Chitnis stamped their authorities as they clinched twin titles in their respective categories in the Shakti Club Open Ranking Table Tennis Tournament organised by Nagpur District Table Tennis Association (NDTTA) on Tuesday.
Ananya claimed the Under-19 girls and women's titles and Adi went on the grab the Under-19 boys and men's trophies. In the Under-19 GIRLS final, Ananya Sakalkale defeated Dnyaneshwari Patharkar 11-08, 09-11, 11-09, 12-10, 11-06. Later she made the light work of Disha Girdhar to win the women's title.
Ananya registered an 11-04, 11-05, 07-11, 13-11, 11-07 victory in the summit clash.
In the Under-19 boys final, Adi rallied from two games down to beat Tejas Wasnikar.
Wasnikar romped to a 2-0 lead taking the first two games 12-10, 12-0.
But Adi crawled back in the third game winning it narrowly 13-11. The win boosted Adi's confidence and he then went on to win the remaining three games 11-04, 11-03, 11-05 and lifted the crown.
In the men's final, Adi crushed Koustubh Udar in a one-sided battle.
Adi was in sublime for as he took the first game 11-08. He did not give his opponent any change to bounce back as he took the second game 11-03, third 11-03 and fourth 11-06 to lift the title.
Purab Singh Renu was rewarded a special prize for his performance in the competition.
Deepak Dhote, President, Nagpur District Table Tennis Association gave away the prizes in presence of Adv Ashutosh Potnis, Secretary, NDTTA, Mangesh Mopkar, Vijay Naik, CJ Radhkrishnan, Y Choudhari and Deepak Kanetkar.