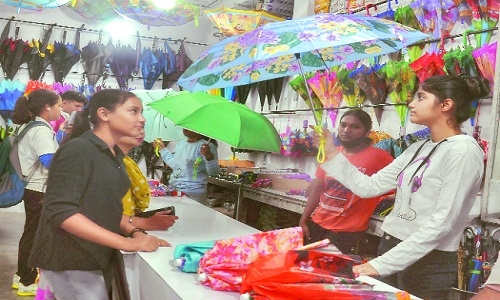 Business Bureau
With heavy rainfall from the past week, the traders in rainwear products like raincoats and umbrellas are getting good response from the customers. "The demand for rainwear products has suddenly increased by more than 20 per cent due to heavy rains which lashed the city recently," said a leading garment shop owner in Sitabuldi while speaking to The Hitavada.
He said that there is heavy rush of buyers at almost all the markets across the city for raincoats and umbrellas. Further, the footfall at the shops and markets is also rising every passing day.
Most traders deal in seasonal items like raincoats and umbrellas and missed business to a large extent in the last two seasons of 2020 and 2021 due to COVID-19 pandemic restrictions. The raincoat and umbrella sellers have planned in advance and geared up themselves to recover the losses they incurred in the past two seasons.
Another source in the market said that most of the traders have placed orders in lower quantities from the manufacturers this season as they had bad experience and suffered losses during the last two years. Also, the prices of raincoats have surged by 20 to 25 per cent, umbrella prices shot up by 15 to 20 per cent during the period.
Highlighting the new designs and colourful varieties of the products, he further said there is a special range of umbrellas for kids that are in good demand.