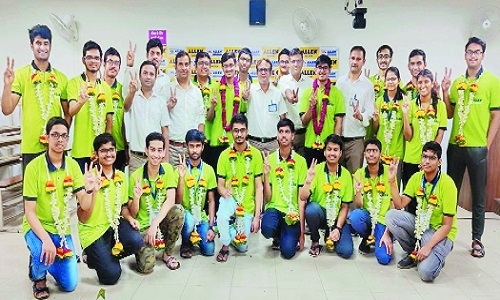 Business Bureau
The results of the country's biggest engineering entrance exam JEE Main-June 2022 have been released by the National Testing Agency. These results have been released for the BE-B.Tech exam. In the results, 100 percentile scorers and State toppers were declared. Allen Career Institute Nagpur Center Head Ashutosh Hisaria told that Advai Krishna of Allen Nagpur has topped Maharashtra. Krishna has scored 99.99 percentile.
As per the result compiled so far, 4 students have scored above 99.99 percentile, 22 students have scored 99.5 percentile, 37 students have scored 99 percentile, 65 students have scored more than 98 percentile, 118 students have scored 95 percentile, 173 students have scored more than 90 percentile marks, along with this 2 students have score a perfect 100% in 3 subjects.
Hisaria informed that in the first attempt of JEE Main, 3 ALLEN students from different centers have scored a perfect 100 percentile in JEE Main 2022, this exam was completed in 14 shifts from 23 to 29 June in which BE-BTech aspirants appeared in 12 shifts from 24 to 29 June. This examination was conducted in 588 examination centers and 407 examination cities across the country and abroad. A total of 8 lakh 72 thousand 432 students were registered for the examination of which 7 lakh 69 thousand 589 students appeared in the examination.
Of the 7,59,589 students who appeared in the examination, 5 lakh 47 thousand 867 were boys and 2 lakh 21 thousand 719 were girls. The next attempt will be held from July 21 to 30.