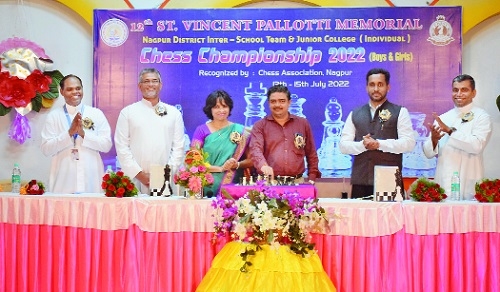 ST VINCENT Pallotti School has organised Nagpur District Inter-School Team and Junior College (Individual) Chess Championship for boys and girls at its premises.
The tournament got under way on Wednesday. The tournament is recognised by Chess Association, Nagpur. Br Jomon, Principal, Montfort School, declared the tournament open. Chief guest Sachidanand Soman, Working President, Chess Association, Nagpur, inaugurated the inter-school tournament. Rev Fr Johny Amaladasan welcomed all the participants.
Manager Rev Fr Johnson Puthur, Rev Fr Shinson, Administrator, Pallottine Animation Centre, Organising Secretary Chhaya Janbandhu, Pravin Pantawane, Chief Arbiter, along with the PTIs, teachers, students and parents graced the occasion. The opening ceremony was conducted by Cindrella Collins and Preeti Sinha while Celestina Connor proposed a vote of thanks.