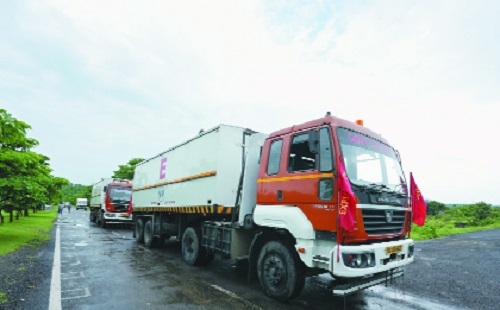 Business Bureau
The city-based Economic Explosives Limited (EEL), a 100 per cent subsidiary of Solar Industries India Limited, on Thursday added another feather in its cap by delivering the first consignment of strap-on boosters called PSOM-XL motor to Indian Space Research Organization (ISRO).
The special type of motor will be used in Polar Satellite Launch Vehicle (PSLV) by the Vikram Sarabhai Space Centre (VSSC) of ISRO.
Strap-on boosters are attached to the satellite launch vehicles from outside. In the PSLVs, the boosters provide the extra push to the launchers enabling it to take a higher payload. With this, the EEL has become the first private player to supply strap-on boosters to the space agency.
In a virtual ceremony, Dr S Unnikrishnan Nair, Director - VSSC, flagged off the vehicles carrying the PSOM-XL from the state-of-the-art facility of EEL. Satyanarayan Nuwal, Chairman, EEL; Anandapadmanabhan EN, Deputy Director, VSSC; and others participated in the event.On the occasion, Dr S Unnikrishnan Nair appreciated the facilities at EEL and the efforts put in by the company for producing the first motor. He also expressed great satisfaction over the company for achieving the high-quality standards required for space applications.
Satyanarayan Nuwal thanked VSSC for its continuous support and guidance during realisation of the first PSOM-XL motor. He said that EEL would be pleased to make any contribution that is of national importance and interest. He congratulated the EEL team for their dedication and devotion in producing the PSOM-XL motor and meeting the quality parameters sought by ISRO.