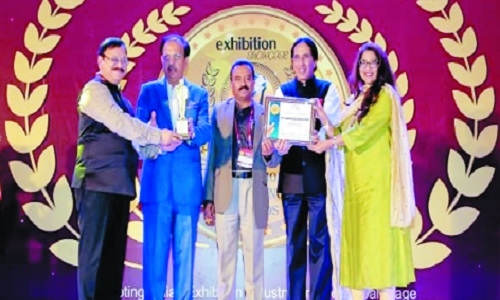 Business Bureau
AT THE recent Exhibition Excellence Awards (EEA) event conducted in the Delhi, NCR region, MM Activ Sci-Tech Communications Private Limited, a city-based reputed event management company, received three outstanding awards.
Exhibition Excellence Awards are an initiative to recognise the unsung heroes of the Indian exhibition industry and to acknowledge their contribution. The 6th annual edition of EEA held on July 8, 2022 was supported by Ministry of Skill Development & Entrepreneurship, Govt of India, IEIA - the Voice of the Indian Exhibition Industry, UFI - The Global Association of Exhibition Industry, IESA, ICPB, PHD Chamber of Commerce and Industry, SITE India, PATA India, TAAI, NIMA, ADTOI, IATTE, prominent Govt body for MSME - National Small Industries Corporation and leading international industry bodies - IAEE, AFECA and AIFI.
Over 500 exhibition organisers, trade and professional associations, trade bodies, PCO's, event venues and MICE stakeholders attended the event. MM Activ is honoured to be the recipient of 3 coveted awards at the Exhibition Excellence Awards 2022.
Agrovision 2021, 'India's Largest Agri Summit' received the award for producing 'The Big Show' a physical show with the most participating exhibitors.
Bengaluru Tech Summit 2021 received the runner's up award for the category 'The Knowledge Hub' on the basis of the number of co-held conference sessions at the exhibition held between Jan 20 - Mar 22. The third honour went to 'CIDCO Exhibition & Convention Centre' which is managed by Asian Convention & Exposition Pvt Ltd.
The award was accepted on behalf of MM Activ Sci-Tech Communications Private Limited by Ravi Boratkar.
He said, "These awards serve as recognition for hard work that goes into organising and planning large-scale events. Our commitment to continue producing high-caliber work has increased as a result of receiving three awards."