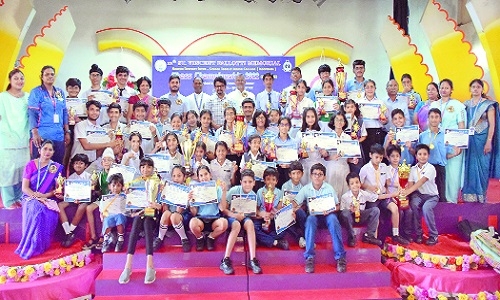 Principal Correspondent
Centre Point School (CPS), Dabha branch boys and girls dominated the 12th St Vincent Pallotti Memorial Inter-School Chess Tournament organised by St Vincent Pallotti School at its premises on Friday.
In the competition, CPS Dabha clinched the High School Boys, High School Girls and Primary Girls' championships while in the Primary Boys' category they finished second best.
Bhavan's Bhagwandas Purohit Vidya Mandir, Trimurti Nagar finished second in High School Boys, High School Girls and Primary Girls' categories while BVM Civil Lines claimed the Primary Boys' title.
In the High School Boys' category, Arush Chitre of CPS, Dabha emerged champion with eight points while Siddhant Gawai of St Vincent Pallotti School finished second with eight points. BVM, Civil Lines' Saksham Singh finished third with 7.5 points.
In the High School Girls' section, Himani Jethwani of CPS, Dabha emerged winner with eight points while Aastha Turankar of BVM Trimurti Nagar, finished second with 7.5 points.
In Primary Boys category, Vishwaditya Awasthi of BVM Koradi won the title with maximum nine points. He was followed by Chirag Lahoti of BVM, Civil Lines with 7.5 points.
In Primary Girls group, Divyanshi Khandelwal of St Joseph Convent, Fetri won the crown with nine points while Swara Gandhi of BVM, Ashti secured second spot with 7.5 points.
In Junior College Boys category, Aaditya Agrawal of BVM, Civil Lines won the title with 5.5 points in his kitty while Abhishek Apte of CPS, Dhaba (5) and Tushar Motwani of SVPS (4.5) finished second and third respectively. In girls, Ismat Chimthanawala of TRGPS won the top spot with four points followed by Shreeya Lutade (Saraswati Vidyalaya, 3) and Vanshika Panjwani (BVM, Civil Lines, 2½) at second and third place.
Dr Sharad Suryawanshi, Director of Physical Education and Sports, RTMNU) was the chief guest of the prize distribution function. Bhushan Shriwas, Secretary, Chess Association, Nagpur was the guest of honour.
Manager Rev Fr Johnson Puthur, Principal Rev Fr Johny Amaladasan, Pravin Pantawane, Chief Arbiter, parents and school staff were also present. The tournament was held under the able supervision of Tournament Organising Secretary Chhaya Janbandhu.
The programme was conducted by Cindrella Collins and Preeti Sinha while Celestina Connor proposed a vote of thanks.