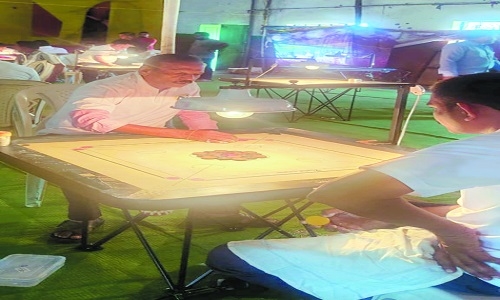 Sports Reporter
RAJU Deogade scored a stunning victory over Ravi Gour on the opening day of the Nagpur District Carrom Championship organised in memory of Sanjay Francis at Bezonbagh Hall, Kamptee Road on Friday.
In an exciting match, Deogade of Janta Wachnalaya defeated Gour of Sharma Carrom Club 2-1.
Deogade won the first game 24-14 but Gour bounced back brilliantly taking the second game 25-06.
In the decider, Deogade kept his cool and won the match 24-14. In another match, William Bendick (NCI) defeated Manish Bagde (Kanishk) 12-10, 19-16 to move up.
Earlier, the tournament was inaugurated by Siddharth Narnaware, Chief Referee and Manohar Wankhede.
Results: Ravi Badhel (RS) bt Nishikant Headau (Janta) 21-08, 16-21, 24-01; Imran Ali (Jaibhim) bt Mohd Raza (Patel) 09-25, 20-06, 16-10; Ali Yasir Ansar (Star) bt Ajay Ninawe (Huren) 17-23, 22-11, 23-20.; Mahendra Gour (Shama) bt Amit Bansod (Janta) 25-04, 25-01; Pravin Mogre (RS Club) bt Milind Wankhed (NCI) 20-10, 25-05; S Chandrikapure (Huren) bt Jaiprakash Chimurkar (Om) 22-20, 11-01; Vishant Badhel (RS) bt Ruben Francis (NCI) 16-11, 21-00; Brajkumar Morkar (RS) bt Avon Francis (Janta) 21-16, 23-14; Md Amin (Star) bt Sheikh Jabir (Daimond) 25-06; Ankush Khobragade (Siddharth) bt Ismail Bhai (Daimond) 25-10, 25-14; Rakesh Gour (Shama) beat Mohsin Qureshi (Daimond) 16-22, 25-09,25-3.