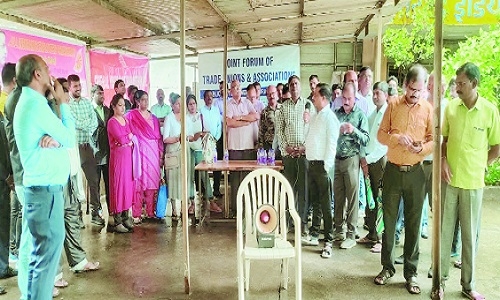 Business Bureau
AS PER call given by Joint Forum of Trade Unions and Associations (JFTU) in Public Sector General Insurance (PSGI) Companies on July 15, the PSGI employees observed one day nation-wide strike demanding their long pending wage revision at par with LIC of India.
Increase in company's contribution to 14% towards National Pension Scheme (NSP), improvement of family pension at the rate of 30% without any capping, pension for all under 1995 Scheme, updation of pension, repeal GIBNA Amendment Act and merger of PSGI companies were the other demands of employees.
It was reported that PSGI employees gave huge response to the strike call. All over India the operating offices remained closed due to the strike.
At Nagpur, shutters of all operating offices of all four PSGI companies were closed. Inspite of continued rains, striking employees in huge number gathered before the Regional Office of United India Insurance Co Ltd situated at Shankar Nagar Square and held demonstrations.
Employees shouted slogans for immediate settlement of Wage Revision like LIC of India. Against the dilly-dallying approach and anti employees/anti public sector policy of General Insurers (Public Sector) Association of India (GIPSA) and Government of India, respectively.
After the demo a meeting was organised. Anant Borekar of National Insurance Co Officers Association, Tushar Kamble of All Insurance Employees Organisation, Vinod Sakhare of General Insurance SC/ST Employees Welfare Parishad, Amit Sonsare of United India Insurance Co Officers Association, Anil Sakharkar of General Insurance Backward Class Employees Welfare Association, Naresh Adchule of LIC employees, Ajay Chawre of All India General Insurance SC/ST Employees Welfare Association and Prashant Dixit of General Insurance Employees' Union, Western Zone addressed the meeting.
All the speakers congratulated the employees for making the strike successful at a short notice. All have appealed the gathering to struggle unitedly. They have also warned the Government and GIPSA management that the struggle will be intensified if the demands are not resolved immediately.
Rajendra Saroj conducted the meeting. Along with working PSGI employees, retired employees also participated in the demo and meeting. Chandrakant Deshpande, Deepak Gotmare, Homraj Adey, Sunil Tambe, Avinash Huddar and Sanjay Shivankar had taken efforts for the success of demonstrations.