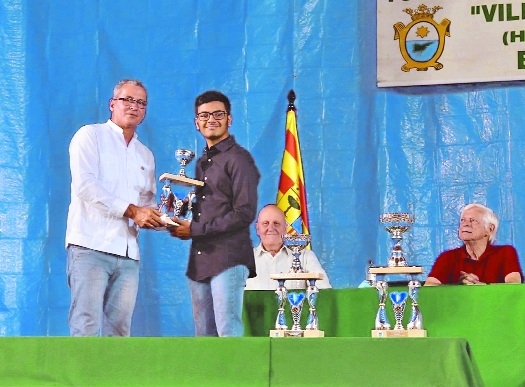 Grandmaster Raunak Sadhwani (R) receiving the trophy from guest in Spain on Friday.
Principal Correspondent ;
Double delight as GM Raunak ends joint first in Villa De Benasque Open Chess Tournament and wins U-18 title in the same meet
Grandmaster Raunak Sadhwani is gearing up for the Chess Olympiad in Chennai in the best possible way. The Nagpur chess wizard is making most of the opportunities he is getting. The Grandmaster finished on the podium in Spain. GM Sadhwani clinched joint 1st place and overall 3rd place on the basis of tiebreaks in Villa De Benasque Open Chess Tournament which concluded in Benasque, Spain on Friday. Total 398 players participated the event from 25 countries. Sadhwani scored 8 out of 10 points and was unbeaten throughout the tournament. He was awarded with a glittering trophy and a cash prize of Euros 2000. To add icing to the cake Sadhwani won the Under-18 Junior category and was awarded a trophy and a cash prize of Euros 250. Indian GM Aravindh Chithambaram secured 1st place with the same 8/10 points. Sadhwani said he was happy with his consistence performance and is looking forward to the Chess Olympiad. "I am really glad that I was able to maintain the consistency throughout the tournament. I managed to play some good chess. I am eagerly looking forward to give my best and gearing up for my maiden upcoming Olympiad at Chennai," said the first Grandmaster from Nagpur. In the competition, Sadhwani started his campaign with a win over Madrid's Martin Luis Vicente with black pieces.
He then beat Catalunya's Sales Montealegre Raquel and then consolidated his position with another win over Garcia Trobat Francisco of Valencia. Sadhwani then logged in his fourth straight point with a victory over Alvarado Diaz Alejandro of Catalunya. Sosa Tomas of Valencia halted the Indian Grandmaster's winning spree with a draw but Sadhwani bounced back with another win over IM Garriga Cazorla Pere in the sixth round. Armenian GM Grigoryan Karen H played out a draw with Sadhwani in the seventh round and Cuban GM Quesada Perez Yasser too managed to split point playing with black pieces.The Nagpur lad then defeated Romanian International Master in the ninth round and completed his excellent tournament with a draw against Grandmaster from Spain's Forcen Esteban Daniel.