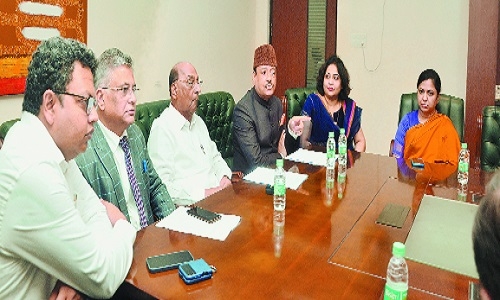 Business Bureau
Datta Meghe Institute of Medical Sciences (DMIMS) has performed magnificently in National Institution Ranking Framework (NIRF) 2022; a national ranking framework by MHRD that rank institutions of higher education and learning across the country by securing 92nd position out of a total 1875 participating institutions under 'Overall' category and 54th position under 'University' category.
Out of a total of 151 participating Medical colleges and 142 Dental colleges across the country, it has bagged 24th and 11th position respectively.
Chancellor of the university Datta Meghe, Pro Chancellor Dr Vedprakash Mishra and Vice Chancellor Dr R M Borle announced this in a press conference held here on Tuesday.
Pro Vice Chancellor Dr Lalitbhushan Waghmare, Registrar Dr Sweta Pisulkar, Dr Tripti Waghmare and others were also present.
Elaborating on the matter, Mishra said that the tremendous leap of 8 positions in Overall, 9 positions in university, 10 positions in Medical and 8 positions in Dental category as compared to NIRF rankings 2021 is a result of various quality initiatives like establishing Off campus centre, launch of online, Pharmacy, Allied sciences, Allied health Sciences and Engineering programmes, more than 280 academic programmes, state-of-the-art infrastructure and learning resources among others.
DMIMS has recently been ranked as 47th university across the globe and 2nd in the country in TIMES impact rankings 2022 for SDG 3 (Good health and well being), within top 200 World universities in SDG 5 (Gender Equality) and Diamond rating in QS I gauge and Medical subject ratings 2022.