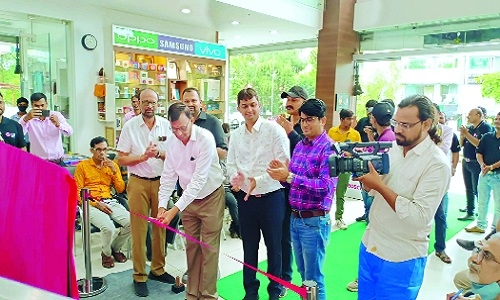 Business Bureau
LG Electronics launched the all new OLED TV here at Taori Marketing on Tuesday. The launching was done at the hands of Santosh Taori, Satyanarayan Taori, both from Taori Marketing and Vishal Trivedi, Branch Manager LG Electronics, at a glittering ceremony. A large number of customers and others were also present on the occasion.
The New 2022 OLED lineup has the widest range of OLED TVs, from the OLED 246 cm (97-inch) extending to the 106 cm (42-inch) OLED TV. In addition to this, LG also introduced the LG OLED evo in their C2 series.
LG OLED evo TVs offer exceptional clarity and detail, for lifelike images that provide a real lifelike experience, the company officials said.
Housed with the latest processor to boost audio quality via the AI Sound Pro feature, the company mentioned that Alpha 9 Gen 5 AI processor will allow OLED TV to up-mix 2-channel audio to a virtual 7.1.2 sound allowing users to hear sound from above and behind. Taori Marketing has world class showroom at Dharampeth with widest and latest electronic products. It has earned strong reputation in terms of consumer satisfaction, price competitiveness and trends gadgets makes it most sought after showroom premises in Nagpur city.
All new line up are available at showrooms of Taori Marketing at Itwari; Khare Town Dharampeth, 49, 56,61-62 Yashwant Stadium, Gandhi Putla CA Road. (Mobile: 9011112665).