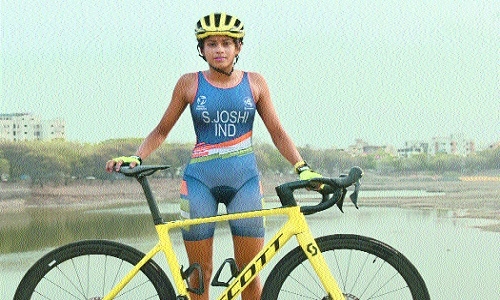 Principal Correspondent
IN ONE of the proud moments for the city and Joshi family, Prime Minister Narendra Modi mentioned city triathlete Sanjana's name in his address while delivering his send-off message to the Indian contingent that will be participating in the Birmingham Commonwealth Games 2022. The CWG will be held from July 28 to August 8. A total of 215 Indian athletes will be participating in 141 events across 19 sporting disciplines. Sanjana Joshi is the only athlete from Nagpur selected to be part of the Indian squad for the Commonwealth Games. She is selected in the Indian team for the Sprint Triathlon.
Prime Minister Modi said that the Indian team is a mix of experience and youth and will make the country proud.
"This Indian team for the Commonwealth Games is a special one. The team is a combination of experienced athletes as well as young and energetic teenagers.
"The team has 14-year-old Anhat Singh (Squash), 16-year-old Sanjana Sushil Joshi (Sprint Distance Triathlon), Shefali and Baby Zahana...these are 17-18 year-old kids. These teenagers are on a mission to make India proud (in the CWG).
"You all are not only representing India in sports but you are representing new India at an international level," Modi added.
Prime Minister Modi also highlighted the struggle, grit and determination of the athletes in a light-hearted interaction as he urged them to forget expectations and focus only on giving their best at the Birmingham multi-sport event. "Kyun pade ho chakkar mei, koi nahi hai takaar mei. You have to play with this attitude there," Modi said during a virtual interactive session.
PM Modi interacted with 3000m steeple chaser Avinash Sable, cyclist David Beckham, shuttler Treesa Jolly and para shot putter Sharmila and promised them that he would meet them when they return victorious.