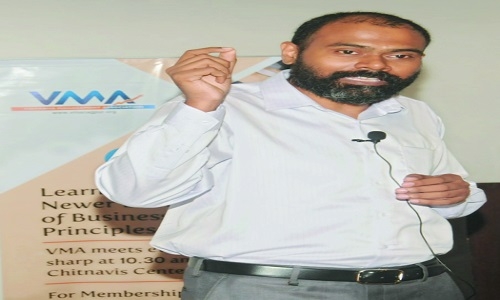 Business Bureau
"IT IS necessary to plan strategies while taking any business on the path of success. While making efforts for the growth of business, careful planning is necessary. Along with this, we should maintain good communication with customers and all other stakeholders. If a person is vigilant while taking risks in business, he can achieve great success," said Rupesh Ghagi, Co-founder of MAXIMESS.
He was addressing the weekly 'Augment' session on the topic 'Ensure business growth in a strategic way' organised by Vidarbha Management Association (VMA) at Chitanvis Centre, Civil Lines.
He further stated that management is extremely important in the success of any organisation in any field. Explaining various aspects behind success of the organisation said, "It is easy to manufacture a product or provide a service, but maintaining consistency in it is a challenge. Growth of business can be attributed to 3 things like organic, strategic and accidental and how each one has its place in business".
One should also be able to let go of the insistence that there will be profit each time. While serving the customer, it is also important to see whether the customer is satisfied, whether the process of communication has been completed on both the sides among other things, he pointed out.
"There is fierce competition in the market today. So if you want to survive, you should work on effective communication. Co-workers should be respected. Their suggestions should be given importance and applied if workable," he further said.
When a person aims to reach the top, preparation is very important. Taking risks with preparation can reduce the chance of failure rather than taking risks blindly. Entrepreneurs, professionals should always update themselves by taking note of the changing market. A person should also keep on exploring new things, he added.
Initially the session incharge, Dr Soma Sharma shared 'Augment Tip' on '6 factors determining success and growth.' Harish Patrikar moderated the session.