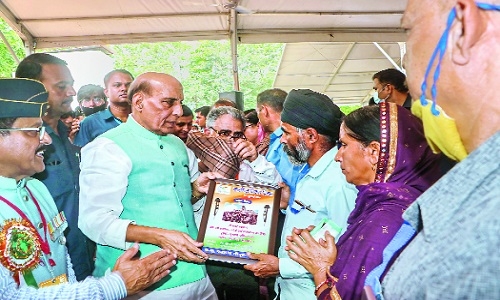 JAMMU,
DEFENCE Minister Rajnath Singh on Sunday said that India is "well equipped" to give befitting reply to "anyone who casts an evil eye on us". Addressing an event to commemorate 'Kargil Vijay Diwas, he said: "India has become a strong and confident nation which is well equipped to protect its people from anyone who tries to cast an evil eye.
"It is the spirit of national pride at the core of our values that protects the unity and integrity of India." He asserted that the sole aim of the Narendra Modi Government is to safeguard the interests of the nation and it has taken a series of steps to develop a self-reliant defence ecosystem that provides indigenous state-of-the-art weapons/equipment to the armed forces to fight all kinds of future wars. "Our priority is to achieve Aatmanirbharta in defence as it is central to developing a robust security apparatus for the safety and security of the nation.
"To realise this vision, 68 per cent of the defence budget has been earmarked for procurement of defence equipment from domestic sources. From a net importer, we have now become a net exporter which is not only catering to our own needs, but is also fulfilling the requirements of our friendly countries, in line with the 'Make in India, Make for the World' vision," he said, adding that due to the recent measures taken by the government, India today finds itself among the top 25 exporters of the world in defence items.
"We have set a target to achieve Rs 35,000 crore worth of exports by 2025 and become the top exporter in the times to come. Our aim is to make India a global superpower.
"This will be a fitting tribute to our fallen heroes who made the supreme sacrifice while dreaming of an India which is strong, prosperous, self-reliant and victorious," Rajnath Singh said.