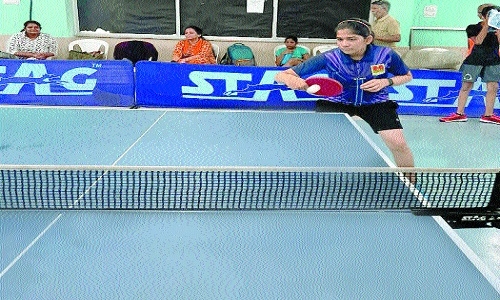 Sports Reporter
IKSHIKA Umate came out with a surgical performance winning the Under-15 girls singles title stamping her authority in the Maharajbag Club Open Ranking Table Tennis Tournament under way at RTM Nagpur University's Table Tennis Hall, beside Subhedar Hall, on Sunday.
Ikshika hardly broke a sweat in her easy win over Sharwari Khobragade in the girls final. The score in favour of the winner read 11-3, 11-6, 11-8. Earlier in the semis, she raced to a (3-0) 11-5, 11-4, 11-3 victory over Anwesha Kashyap. Sharwari also got better of Tanisha Kolare in the other semis with an identical score (3-0) 11-8, 11-8, 11-9.
The boys U-15 final, played between Tejas Wasnikar and Arush Meshram went to the wire. Tejas managed to held his nerves to eke out 3-2 win. Tejas registered 11-3, 8-11, 11-3, 9-11, 11-8 win of the title. In the last-four stage, Tejas wiped out a game deficit against Arinjay Kolarkar (3-1) 14-16, 11-4, 11-6, 11-8 while _Arush had edged past Sarth Shastry (3-2) 11-8, 6-11, 11-13, 11-6, 11-7.
Ikshika was in line for a double crown as she stormed into final of the Under-17 girls singles final. She had no trouble whatsoever in getting past Unnati Sakhare in straight four games 11-2, 11-1, 11-3, 11-3. Ikshika will be up against Sharwari who got the better of Anwesha Kashyap four games to two 9-11, 11-1, 8-11, 11-7, 11-6, 11-9.
Tejas also has a chance to make it to twin titles. He recorded a comfortable 11-4, 9-11, 11-7, 11-7, 11-8 win over Shrivar Kumre in the U-17 boys singles semis. In the other SF, Arinjay Kolarkar had to work hard to beat Sarth (4-3) 11-9, 4-11, 11-8, 12-14, 7-11, 11-6,n 14-12. Both the finals are scheduled for Monday.
The event is being organised by Nagpur District Table Tennis Association (NDTTA).