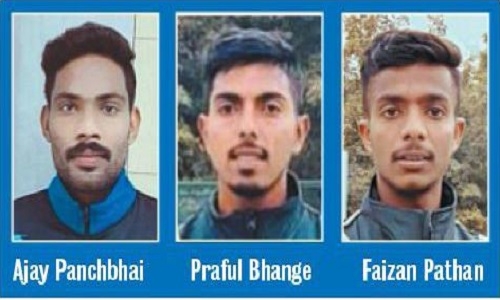 Sports Reporter
THE trio of Ajay Panchbhai, Praful Bhange and Faizan Pathan have been selected by different franchises for the upcoming Ultimate Kho Kho that will be played from August 14 to September 4 at the Balewadi Stadium in Pune.
All the players are members of Katol's Vidarbha Youth Krida Mandal. An employee of Forest Department, Panchbhai, who has represented Vidarbha at two national championships, has been selected by Mumbai Khiladis. He has participated in as many as eight State championships.
Bhange, who has an experience of participating in eight national and ten State tourneys, has been picked by Gujarat Giants. The 24-year-old has been representing Vidarbha Youth for the last 14 years.
Vidarbha Youth Krida Mandal's 21-year-old all-rounder Pathan has earned a place in the Mumbai Khiladis team. He has represented Maharashtra in Khelo India Games twice and has played four nationals representing Vidarbha. He has also participated in six State tourneys.
Anup Kharade, President, Vidarbha Youth Krida Mandal, is delighted with the selection of three of its players for the professional league. These are good times for the sport of kho kho and more youngsters will turn up to take the traditional Indian sport, said Kharade.
Kharade, along with mandal secretary Anil Dhande, Sandip Thakare, Amit Kakade, Vikram Paliwal, Mukesh Pande, Anil Kakade and others congratulated the players on their selection.