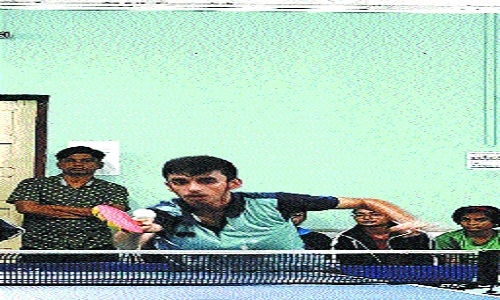 Sports Reporter
BOTH Tejas Wasnikar and Ikshika Umate collected their second trophy in the Maharajbag Club Open Ranking Table Tennis Tournament in progress at RTM Nagpur University's Table Tennis Hall, on Monday.
Tejas and Ikshika had won the U-15 boys and girls singles crown respectively on Sunday night.
The Under-17 singles title winners recorded contrasting wins. While Tejas had to overcome a two-game deficit, Ikshika was as smooth as silk in her summit clash.
Tejas got to bad start against Arinjay Kolarkar, who took the first two game at 11-9 and 11-5 for a 2-0 lead. But Tejas bounced back to the next four in a row 13-11, 11-8, 11-2, 11-5 to lay hands on second title in as many days. Tejas had defeated Arinjay in the Under-15 semi-final 3-1.
In a repeat of the U-15 final, Ikshika was against Sharwari Khobragade in U-17 final again. Like in Sunday's final, Ikshika did not drop a single game on her way to grabbing twin titles. Ikshika drubbed Sharwari in four straight games 11-4, 11-6, 11-3, 11-5.
The men's singles event also started on Monday. In the pre-quarters, Kaustubh Udar defeated Samad Gunjal 11-5, 11-5, 11-3, 11-6; Jayesh Kulkarni beat Harshal Khobragade 11-2, 11-0, 11-4, 11-5 and Adi Chitnis got the better of Anil Dhole 11-4, 11-6, 11-1, 11-2. All the players recorded straight games victory.