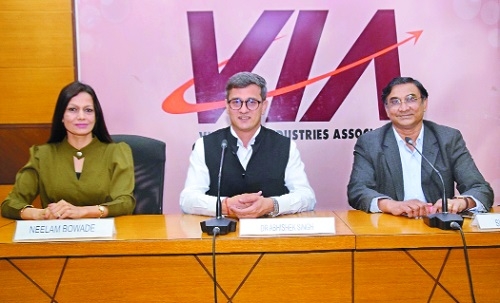 Business Bureau
While elaborating on the utility of Design Thinking (DT) in managing human resources and related processes in organizations at a session held here recently, Dr Abhishek Singh, Assistant Professor at Institute of Management Technology Nagpur, said that various functions of HR, such as recruitment and selection, performance appraisal, training and development, compensation management etc. need to be made employee centric.
"As per a recent Gallup research study, only 13 per cent employees are engaged in their jobs worldwide. This shows that organisations are mostly focused on structure, processes, systems and policies etc. And somewhere we miss humans in this. Whereas these humans are the ones who drive structure, processes, policies and systems. DT helps us focus on humans at the centre," he highlighted at the session conducted by the HRD Forum of Vidarbha Industries Association (VIA) on 'Decoding Design Thinking HR Perspective'.
Dr Singh, who is a certified Design Thinking expert and provides training and consulting to organisations to develop human (customer)-centric products, services and processes, further explained the DT process and various steps involved in it. "As a human-centered problem-solving approach, DT can be used for new product / service development, improving existing product / service and making organisational processes more human centric," he added. He also gave an example of how Indira Nooyi, former Chairperson and CEO of PepsiCo wrote personalized handwritten letters addressing the spouses and family members of the top performing employees from her team to recognise the contributions made by them in the growth of the company. This humane approach takes good organisation to the category of 'great'.
Earlier, Suresh Pandilwar, Co-Chairman of HRD Forum welcomed Dr Singh spoke about the activities of the forum. Neelam Bowade, Convener of the Forum, made an opening remark and also introduced the speaker.