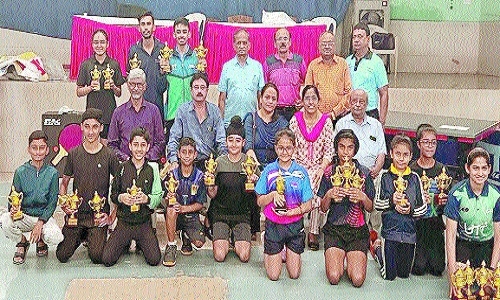 Sports Reporter
IKSHIKA Umate swept away with four crowns while Adi Chitnis picked twin titles in the Maharajbag Open Ranking Table Tennis Tournament that concluded on Tuesday.
Ikshika defeated Ananya Sakalkale 11-7, 11-2, 11-9, 11-8 in U-19 girls final and then beat the same rival 11-7, 11-6, 11-3, 11-4 in women's final.
Adi's first title of the day came when he got past Tejas Wasnikar 11-6, 11-8, 11-7, 12-14, 9-11, 11-6 in U-19 final. He made a double beating Koustubh Udar 11-5, 8-11, 12-10, 11-13, 5-11, 11-6, 11-3 in men's final.
Prizes were distributed at the hands of Payal Renu and Sunita Shastry. Present on the occasion were Adv Ashutosh Potnis, Mangesh Mopkar, Deepak Kanetkar, P Pathak, Vijay Naik, Vasant Daxinkar and K Choudhari.