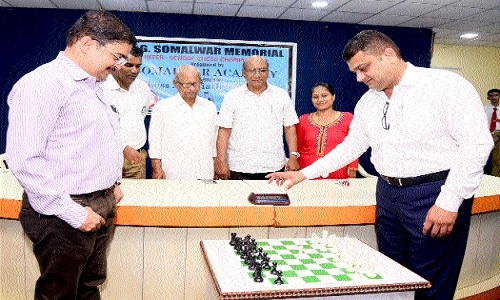 Sports Reporter
THE 14th edition of LG Somalwar Memorial Inter-School Chess Tournament (Girls) got under way at Annasahib Somalwar Memorial Sabhagruha, on Tuesday.
The tournament was inaugurated by Adv Nishant Gandhi, President, Chess Association Nagpur and SS Soman, MCA Tournament Committee Member.
Executive Members of Somalwar Academy, RP Somalwar, Vice-President; Prakash Somalwar, Secretary; Mahesh Somalwar, Member; CA Rohit Somalwar, Treasure, Somalwar Academy and CA Vyankatesh Somalwar, Management's Invitee graced the occasion.
VW Joshi, President NSCA; DP Thombre, Principal, Somalwar Nikalas and Bhatnagar, HM, Somalwar English Primary Nikalas were also prominently present.
Ashish Bhide welcomed the dignitaries. SP Chande conducted the programme and proposed a vote of thanks.