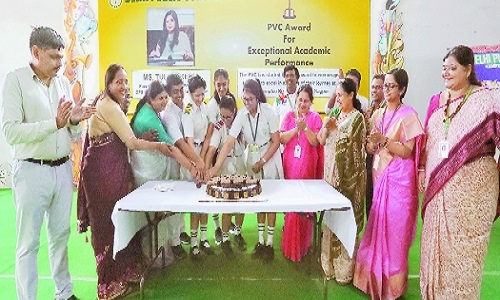 Business Bureau
DPS Kamptee Road, Nagpur took the city by storm on July 22, 2022 when the result for AISSCE was announced. Priyanka Biswas bagged the prestigious title of the city topper of grade XII (Commerce) by securing 98.6%.
She was felicitated by the President and Pro Vice Chairperson DPS Kamptee Road and MIHAN, Nagpur, Tulika Kedia in a gala event hosted in the school.
The parents of the school toppers were invited to honour the laurels brought to the school by their wards.
The President and Pro Vice Chairperson of DPS Kamptee Road and MIHAN, Nagpur, Tulika Kedia, awarded the city topper with a cheque of Rs 51,000 to celebrate her laudable achievement.
Kedia has instituted this special award to encourage students to excel in academics and will be presented every year to the DIPSITE who bags the title of city topper.
The moment was made special by cutting a cake by the meritorious students to celebrate the victory.
School toppers from Commerce and Science stream were also felicitated viz. Kanan Batra (97.4%) and Amisha Matharu (95.2%) from Commerce and Ishita Pandya (97.4%), Vaishnavi Sarda (97%) and M Hrushikesh (96.8%) from Science. Priyanka Biswas was ecstatic to receive this coveted award. Her parents were overjoyed at her success and credited her success to the unstinted support provided by the school. In her address to the students, Priyanka thanked
the management and the teachers for their constant guidance, encouragement and motivation.
She remarked that her success was the product of her hard work combined with the love and the deep faith of the teachers in her.