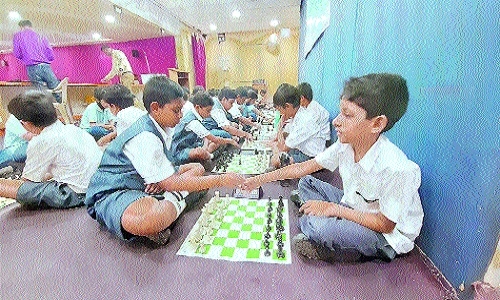 Sports Reporter
BVM Civil Lines A and CPS, Dabha teams ended on top on opening day of the 20th LG Somalwar Memorial Boys Team Chess Championship that began at Annasahib Somalwar Memorial Sabhagruha on Thursday.
In the Primary section, BVM Civil Lines A boys kept their slates clean winning four of four for 8 match points. They were closely followed by CPS, Dabha who had a identical record but slightly poorer tie-break 2 score.
CPS, Dabha boys were leading in the High School section with eight match points same as that of second placed Narayana Vidyalayam Wardha Road A team. Close on their heels were BVM, Trimurti Nagar and Somalwar HS, Nikalas A teams with seven points apiece.
In all, 74 teams are taking part in the Primary and High School categories.
On Friday, three rounds will be played in High School group starting from 9:00 am and two rounds will be played in Primary group starting from 10:00 am followed by prize distribution function at 2:30 pm at the hands of Dr Amit Samarth, Director, Miles N Milers Endurance Sports Academy in the august presence of all the management members of Somalwar Academy and CAN office bearers. The event is being organised by Somalwar Academy.