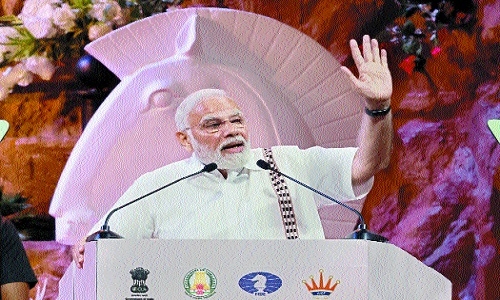 CHENNAI,
PRIME Minister Narendra Modi declared open the FIDE 44th Chess Olympiad here on Thursday, and encouraging the players, said that in sports there are no losers, but winners and future winners.
"Sports is beautiful because it has inherent power to unite. Sports brings people and societies closer. Sports nurture a spirit of teamwork," he said. The Chess Olympiad, the most prestigious tournament, is hosted by India, the home of chess at a special time in its history, which marks 75 years of freedom from colonial rule, he said.
The 44th Olympiad has been a tournament of many firsts and records and this is the first time the Chess Olympiad is being held in the place of origin of chess, India, he said. It is coming to Asia for the first time in 3 decades.
In his address during the inaugural at the Jawaharlal Nehru Indoor Stadium, Modi said it is an honour to have international chess players at such a special time.
"In sports there are no losers, there are winners and there are future winners," he said. "May the 44th Chess Olympiad in Chennai be an enriching experience for everyone. Best wishes to all the participants."
The Prime Minister said there has never been a better time for sports in India than the present. "India had its best-ever performances in the Olympics, Paralympics and Deaflympics. We achieved glory even in sports where we had not won earlier", he said. India's sporting culture is becoming stronger due to the perfect mix of the energy of youth and the enabling environment, he said. The PM, as in the events held in Tamil Nadu in the past began his speech by uttering the Tamil word for greetings, 'Vanakkam.'