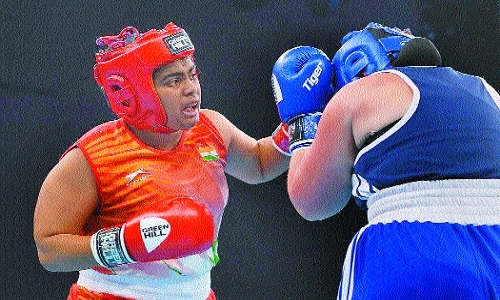 Sports Reporter
CITY'S pride and World Youth champion Alfiya Pathan outpunched her Kazakhstan rival in the semi-finals to book a place in final of International Elite Men and Women Boxing Tournament for Elorda Cup at Noor Sultan in Kazakhstan.
Alfiya showed her dominance against Valeria Axenova of Kazakhstan as the referee had to stop the contest (RSC) in just the second round of their (81+kg) bout.
Apart from Alfiya, three more Indian boxers — Kalaivani Srinivasan (48kg), Gitika (48kg) and Jamuna (54kg) will play the title matches on Monday.
The champion boxer will receive USD 700 while the silver and bronze medal winners will take home USD 400 and USD 200 respectively.
Late last year, Alfiya Pathan created history by becoming the first boxer from Maharashtra and Nagpur to win an AIBA World Youth Boxing gold medal for India. Alfiya recorded three out of three wins to clinch the gold medal for the country in April in Poland.
A 33-member Indian contingent, including 12 men, has been participating at the ongoing event with two teams featuring in the women's section. Apart from India, the tournament has also been witnessing the presence of pugilists from other top boxing nations such as Uzbekistan, hosts Kazakhstan, Cuba, China and Mongolia.