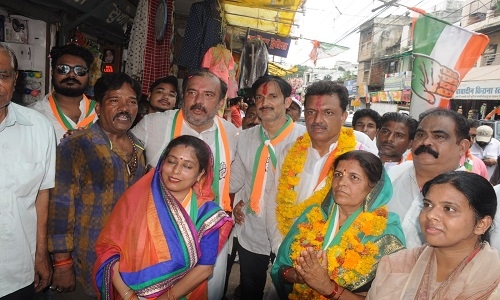 Staff Reporter
Congress' Mayoral candidate Jagat Bahadur Singh 'Annu', on Sunday, visited a number of areas of the city and sought people's blessings. He promised the citizens that he would leave no stone unturned to make Jabalpur a city with modern amenities of sports, art, literature, tourism, environment, transport and medicine. Annu with folded hands sought blessings of people and said they have entrusted a long time of last 18 years to Bharatiya Janata Party but the condition of the city is not hidden from anyone. Now the public should give only 5 years to him and he would fulfill every expectation of the citizens regarding city development.
The Congress Mayoral candidate conducted election campaigning in George D'Silva and Banarsidas Bhanot ward of West Assembly constituency. Subhadra Kumari Chouhan ward, Kamla Nehru Ward, Vivekananda Ward, Maharaja Agrasen ward, Cherital and Kasturba Gandhi ward in North Central Assembly.
During campaigning he sought blessings of people for victory and promised them of overall development of the city. MLA Tarun Bhanot, MLA Vinay Saxena along with other party leaders and workers conducted campaigning in favour of Annu.