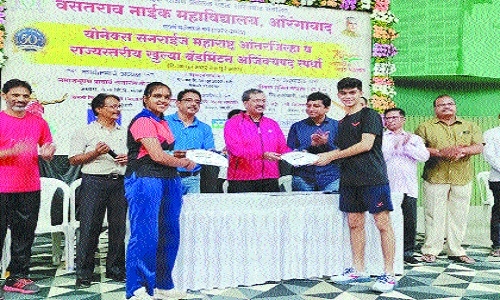 Sports Reporter
THEY were the top seeds and in contention for a State title but poor planning by the organisers robbed them of an opportunity to have a go at glory in Yonex Sunrise Maharashtra Under-19 Junior Open State Championship under way in Aurangabad on Monday.
The top seeded pair of city shuttler Nikkita Joseph and her Pune partner Dhruv Thakore conceded their mixed doubles final as they had to leave the city (Aurangabad) by night itself to be able to attend national selection tournament scheduled to begin on July 7 in Panchkula, Haryana.
The Yonex-Sunrise 29th Smt Krishna Khaitan All India Junior (U-19) Ranking Badminton Tournament is of more importance as it provides the players opportunity not only to collect some ranking points but also a chance to impress the national selectors for selection in India junior squad.
Nikkita and Dhruv preferred the second spot letting their opponents — the second seeds from Pune, Arya Thakore and Mahek Nayak. Incidentally, Dhruv and Arya are cousins and both along with Nikkita will be taking part in the Panchkula. Mahek is not participating in the meet.
It has been reliably learnt that the players were ready to play the mixed doubles final by the referee had scheduled it for Tuesday. It was not possible for Nikkita to stay for one more day as she had her bus to Nagpur leaving at 11 in night. Nikkita will be leaving for Panchkula by Tuesday flight.
Badminton Association of India's (BAI) calendar that includes Panchkula event was declared earlier than the
State meet. Players, coaches and parents had requested the authorities concerned prior to the tourney that the (State) event should be over by July 4 as most of the players would be participating in the bigger event.
Earlier in the day, Nikkita-Dhruv defeated Saransh Gajbhiye and Anamika Singh in straight games in the semi-finals 21-15, 21-17.
In the quarters, they were stretched to three games by Sangli's Tejas Shinde and Thane's Shruti Bhoir 21-18, 19-21, 22-20.