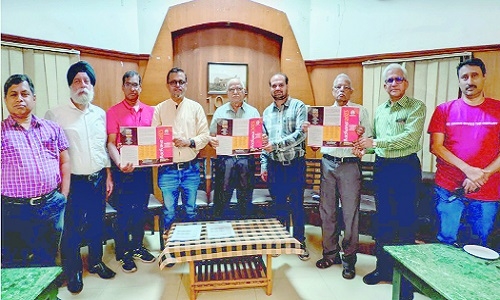 Business Bureau
The Nagpur Centre of The Indian Institute of Architects will conduct Rachana exposition between February 17 and 20. The mega exposition will be inaugurated by an eminent personality, on February 17, 2023 at 10.00 a.m. and the event will remain open for visitors from 11.00 am to 9.00 pm.
The Nagpur Centre has been organising Rachana - Exposition of Building & Interior Designing Materials, Home & Office Automation System, Building Services and Construction Equipment, since February 1988 and the invigorating experience of the culmination of previous cycle of Rachana has energized the Nagpur Centre, further to step into the 24th cycle of Rachana in its Golden Jubilee Year (1973-2023).
Rachana - an exposition, best known for its excellence presents a unique forum for manufacturers, processors, exporters, dealers, suppliers, vis-a-vis for designers, builders, developers and even to buyers and end users; to catch up on the most up-to-date knowledge on various goods and products, services, systems, automation, and very latest innovative designs and technologies etc.
The bookings of the stalls have begun and the interested exhibitors can contact any person listed on the brochure.
The brochure for Rachana 2023 was launched at the hands of Ar. Ramesh Bhambhani, Trustee IIA on Monday in presence of Ar Raviraj Sarwate, Chairman, IIA Nagpur Centre, Ar. Sujit Rodge, Convener, Rachana 2023; Ar Rahul Dandekar, Co-Convener, Rachana 2023. Ar. Sunil Degwekar, Vice Chairman IIA Nagpur Centre, Ar. Paramjit Singh Ahuja Immediate Past Chairman, IIA Nagpur Centre, Ar. Rajesh Kakde, Treasurer IIA Nagpur Centre and Ar. Aniket Khodwe, Joint Secretary, IIA Nagpur Centre, were present.