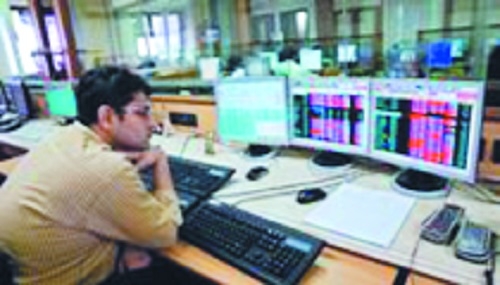 Business Bureau
After a sharp sell-off the stock markets namely the Sensex and Nifty are forming a base and trying to regain higher territory amid relentless selling by Foreign Institutional Investors (FIIs) from the past one year.
In such a volatile market conditions investors are scared, but there are some city-based experts that are highly optimistic and feel that the Nifty is forming a base at the current levels and expecting the markets to rebound.
"We feel that the Nifty is forming a bottom at the current levels and ready to regain higher ground," said Anuj Badjate, MD of Badjate Stock & Shares Private Limited.
According to him, the recent market corrections have been sharp and swift as most of the stocks have fallen by average 40 per cent from their highs. He expects the Nifty to hold the 15400 level, but in the worst case fall to 15100 level. In the next few months the Nifty could cross the crucial 16200 level.
By this year end the Nifty should be able to cross 16800 level. However, he anticipates that the Russian-Ukraine conflict to end by this year end and international crude oil prices to fall below $100 per barrel. This would contain the raging world-wide inflation to lower levels. If these events were to happen then he anticipates that the stock markets could take out the previous high and make a new peak in 2023-24. Also, he does not see India going into recession like the US or Europe.
He advises investors to start investing in small numbers in good quality stocks to get good returns for mid and long term. CA Kailash Jogani is highly confident in the growth of the Indian economy and stock markets. He said that the Nifty is currently forming a bottom and attempting to go higher.
He does not expect it to fall to 14,500 levels as predicted by some analysts.
The steep fall in the stock markets and volatility is due to heavy selling by FIIs and operators, rise in inflation and high international crude oil prices. The Indian domestic institutions and retail investors are pumped in huge liquidity in the markets. They have absorbed most of the selling by FIIs which is about Rs 4.50 lakh crore from the past year. He said the Indian economy is on the path of growth as GST and Income Tax collections are strong and there is political stability in the country.
According Nirav Panchmatia, "The Indian economy is on a better footing then we were before COVID, but markets are expected to be volatile as long as US equity markets are correcting."
"US indices NASDAQ and S&P 500 are down 30 per cent and 20 per cent from their peaks. Cryptos are down 70 per cent to 90 per cent. In such an environment preservation of capital is more important then making returns," Nirav Panchmatia said.
"Systematic Investment Plans (SIPs), Systematic Transfer Plans (STPs) and asset allocation funds are investors' best friend and they help them to take advantage of market volatility," said AMFI registered MFD Nirav Panchmatia.