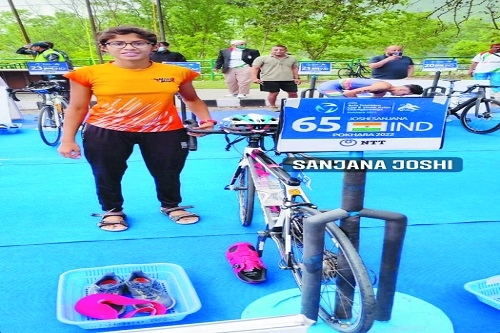 Sports Reporter
CITY's Sanjana Joshi, a 17-year-old athlete, has been selected in the Indian team for the Sprint Triathlon that will participate in the Commonwealth Games later this month.
Sanjana, who comes from a middle-class family, is struggling for support to prepare for the Commonwealth Games to be held in Birmingham from July 28. She is undergoing rigorous training at Army Sports Institute Pune.
According to her coach Dr Amit Samarth, Sanjana needs around Rs 10 lakh to buy a new racing cycle and her expenses for training for her best performance at the Games.
"She has received no support from the city administration nor from the Maharashtra Government. She has applied for support to the Maharashtra Government but nothing has happened in the last one month. She needs immediate support and attention," pleaded Dr Samarth through a press release.
At present Sanjana is practising with Dr Samarth cycle but she needs much improved bicycle so that she can perform much better.
Dr Samarth has appealed corporates to help Sanjana through their CSR fund so that she fulfils her dream and bring laurels to the city and nation.