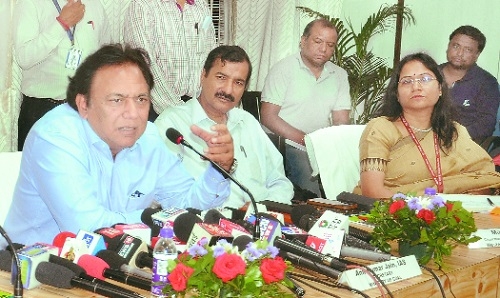 Business Bureau
More than 5 lakh coal mine workers spread across the country may soon get increased pension as the Government has initiated a process to make additional contributions in the pension fund. Coal Secretary Dr Anil Kumar Jain on Tuesday told the media persons that the Government is making attempts to increase the voluntary contribution of coal miners to the Coal Mines Pension Fund from existing Rs 10 per tonne to Rs 20 per tonne of their coal production. He also said that the Government is planning to make the contribution mandatory for all coal miners including those in the private sector.
As of now only public sector miners are contributing to it at the rate of Rs 10 per tonne of coal produced by them.
While attending the meeting of Board of Directors of the Coal Mines Provident Fund Organisation (CMFPO) held in the city on Tuesday, Jain asked the organisation to prepare a proposal to be placed before the Government.
It is important to note that the beneficiaries of the CMFPO is struggling to meet the growing demand of pension of the coal mine workers. It is falling short of about 50% per cent fund.
"If all the coal producers in the country make the contribution to the Coal Mines Pension Fund, CMFPO can easily keep paying a considerable pension to the workers. It will also help us put a lower cap on the pension of the coal miners," he added. The CMFPO has plans to take the minimum pension of the coal mine workers to level of Rs 1,000 per month.
After retirement, the coal mine workers are eligible for a monthly pension which is calculated on the basis of their number of years in service. In recent years, the number of such workers has gone up and there is a shortage of funds to give them pensions. It is now expected that the contribution to the tune of Rs 20 per tonne from all the coal miners may significantly improve the fund.
Highlighting that the country's power generating companies have been maintaining enough stock of coal with them, Dr Jain said there is no shortage of the commodity. "We are aware of the rising demand of coal from the power gencos and accordingly we are pushing up our coal production. Mining is being done in various new areas which will help achieve the target of producing 1 billion tonnes of coal per year by 2025," said.
Chairman and Managing Director of Coal India Limited Pramod Agrawal; Chairman and Managing Director of Western Coalfields Limited (WCL) Manoj Kumar; Deputy Director General in Ministry of Coal Ms Santosh and others were also present in the press conference.