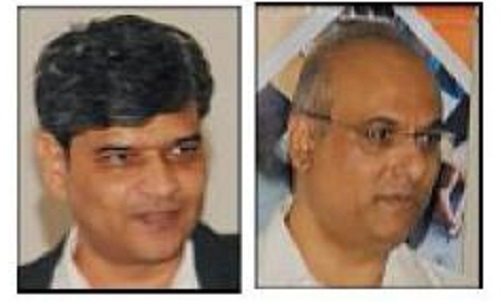 Business Bureau
"THE ultimate aim of any business is making maximum money. But your growth rate depends on how you use the money (capital), how you invest it smartly and how you set goals and get paybacks," felt experts Swastik Jain,
Chief Executive Officer (CEO) of Core Trust and Dheeraj Bhagat, Director of Great Place IT Services while speaking at the session organised by Vidarbha Management Association (VMA) at Civil Lines Nagpur.
"If investments are made at the right time and at the right place, the average growth rate can definitely be maintained, as growth is directly dependent on the investments and capital management," they said.
In the first session on the topic 'Business KPI's (key performance indicator) for growth', Dheeraj Bhagat said, "It is difficult but not impossible to recognise the unexpected challenges in businesses. The risk factors affecting the business, can be realised through management skills."
Therefore, investment in human resources is considered ideal all over the world. There are definite 'Lead and lagging indicators' in each domain of business. "Lagging indicators denotes the current status and lead indicators are to predict the future state," he said.
In the second session while explaining the inter-relationship between wealth and discipline (Wealth-0-Nomics), Swastik Jain said, "Rich and wealthy are mostly synonyms but there is a difference. Everyone wants to be rich. But insightful, smart investments make you wealthy. Staying wealthy is therefore an ongoing process."
Equity, real estate, commodity and funds are the avenues of investment. The impact of all these four asset classes is different, he pointed out. "Everyone should decide how long to invest their capital and how much to invest," he added.
The session was moderated by Sudhir Laturkar while the Augment tip was shared by Sandip Tibdiwal on the topic 'Ease of processing'.