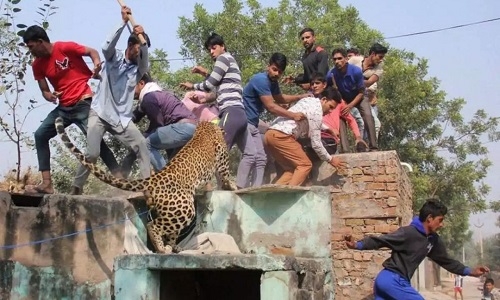 Staff Reporter
Government of Maharashtra has increased the financial assistance that to family of person killed in wild animal attack from Rs 15 lakh to Rs 20 lakh. State Forest Minister Sudhir Mungantiwar, on Wednesday, announced this development in the Legislative Council. Government also released a GR in this regard on Tuesday.
The previous BJP Government, when Mungantiwar was Forest Minister, had increased the compensation amount from Rs 10 lakh to Rs 15 lakh.
Making the announcement in the Council, Mungantiwar said that incidents of man-animal conflict were rising in the State. In 2019-20, total 47 people were killed in attacks by wild animals, 80 people died in 2020-21, and 86 persons died in 2021-22, he informed the Legislative Council.
"The financial assistance (in such cases) has been hiked from Rs 15 lakh to Rs 20 lakh," Mungantiwar announced on the floor of the House.
The assistance is provided in case of death due to attack by tiger, leopard, bear, bluebull, wild boar, wolf, hyena, crocodile, wild dog and elephant, he added. The population of wildlife has increased in recent years due to effective implementation of wildlife management and conservation practices by Forest Department. At the same time, the man-animal conflicts have also gone up. However, the Department is reducing load on the forests by local communities through Dr Shyamaprasad Mukherjee Jan Van Yojana and awareness programmes, it was mentioned.
The Department will give immediate help Rs 10 lakh to the kin of victim and deposit remaining Rs 10 lakh in for of bank fixed deposit (FD). If a person becomes disabled permanently in the attack then he/she would get Rs 5 lakh and in case of serious injuries the compensation will be Rs 1.25 lakh. The Forest Department will bear cost of minor injuries for treatment upto Rs 20,000 in a private hospital.
Further, the department would pay Rs 70,000 or 75 percent of market rate instead of previous Rs 60,000 if a cow, buffalo or ox is killed in wildlife attack; Rs 15,000 instead of previous Rs 10,000 if goat, sheep or other domestic animal is killed in the attack; Rs 15,000 instead of Rs 12,000 if domestic animal becomes disabled permanently and Rs 5,000 in case injuries to animal.