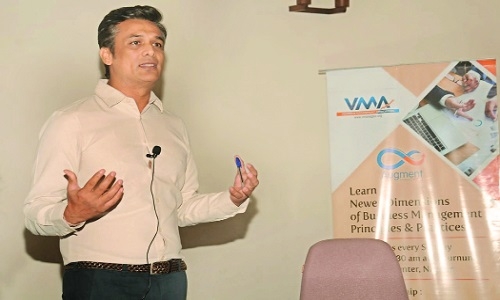 Business Bureau
Executive Director of Ankur Seeds Vaibhav Kashikar on Sunday said that there can be difference of opinion but there should not be ignorance towards opinion. "The ignorant attitude often hurts and creates permanent rifts; better find a solution in the situation itself to deal with the situation more smartly," he while addressing the weekly 'Augment' session conducted by Vidarbha Management Association (VMA) at Civil Lines. His topic of discourse was 'Finding Solutions within Situations'.
He further said one should try to give everyone a free hand while working. "Continue to work without worrying about glory. Success and failure are part of your journey," he said.
He said, "When you dare to start something new in your business there can be difference of opinion, which is natural. But there should not be disrespect or ignorance towards others opinion as the opinion giver might have some valid point that needs to be considered. Rather involve the opinion givers actively to make your project / idea work better. In this way you find a solution for your situation by staying within that situation only."
Kashikar said that the key to success of Ankur Seeds is its relationship with grassroots farmers across the country. Ankur maintains a bonding with its customers on the basis of co-operative co-workers. The company has expanded on the motto of 'working together by treating all staff members equally'.
Ankur has a maintained a format of working wherein every person who joins this business has to work first in the market and understand the dynamics of this industry. This has been a family tradition and new generation is no exception. This is important to keep a learning mode on. Everybody contributes his / her part and gets equal opportunities. Any decision is taken with mutual consent only after discussing what should be done and what should not be done. If you cultivate this discipline in work, you can definitely go a long way, he added.
Moderator of the session was Dr Vishal Lichade. Augment tip was shared by Pravin Panchbhai on "Understanding problem and solutions on Staff attendance".