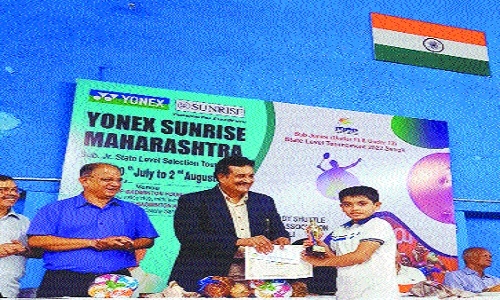 Sports Reporter
NAGPUR'S Aditya Yaul emerged Under-11 boys singles champion in the Yonex Sunrise Maharashtra Sub Junior (U-11 & U-13) State Selection Tournament that concluded in Sangli on Tuesday.
To his credit, the youngster also managed a silver in the higher U-13 age group in the four-day event. Nagpur district's U-13 badminton champion showed excellent performance and great temperament throughout the tournament
In U-11 final, Aditya outclassed his opponent Pratham Raut of Palghar wining 21-10, 21-10 with consummate ease.
In early morning session, Aditya and Sairaj Nayse were fighting for spot in the boys singles U-13 final. The Nagpur district U-13 finalists played very well but Aditya got better of Sairaj to book his spot in the final. Aditya beat Sairaj 21-13, 21-17 in the semis. In the final, Aditya played well but went down to Sachet Tripathy of Pune 18-21, 19-21 in two close games.
Nagpur pair of Mayank Rajput and Sairaj finished runners-up in the U-13 boys doubles. The city players lost to the combination of Pune players Aayush Adey and Sachet Tripathy 12-21, 14-21 in the summit clash. In the semis, Sairaj and Mayank played very well to oust Nashik's pair of Saksham Pathania and Vishwajeet Thavil in three games 20-22, 21-16, 24-22.
In U-11 girls doubles final, the city combine of Sanvi Ghate and Vaishnavi Manglekar lost to Khyati Katre (Pune) and Shravani Bamankar (Palghar) 16-21, 6-21 to settle for silver.
Fizza Akbani lost her U-13 girls singles semi-final to Pranjal Shinde of Palghar 21-18, 21-17.
Nagpur's Parth Jain and Viaan Chahande, who reached semi-finals in doubles Under-11, were beaten by Palghar's duo of Ashlon Pinto and Pragnay Shinde 21-6, 21-7.
Another city pair, Naitik Patel and Neel Lanjewar, reached boys doubles Under-13 quarters where they lost to ultimate champs Aayush- Sachet 21-4, 21-8.
The 10-year-old Aditya trains under coach Amit Raut's guidance at Indoor Stadium, Divisional Sports Complex, Mankapur. Aditya is 5th standard student of Bhavan's Bhagwandas Purohit Vidya Mandir, Koradi Branch.
Aditya received his trophies at the hands of Pradeep Gandhe, former international badminton player and Dhyanchand Awardee. Sundar Shetty, General Secretary, Maharashtra Badminton Association; Vishwas Deshwandikar, COC, Maharashtra Badminton Association; former badminton players and current coaches Mangirish Palekar and Nikhil Kanetkar were among those present during the prize distribution function.