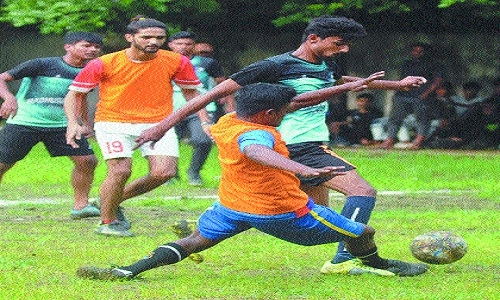 Sports Reporter
ARYAN Football Club of Wox Cooler Colony edged past Young Haider Football Club from Hudko Colony making winning start in the North Division matches of Slum Soccer Tournament that got under way at the NIT Police Station, Hudko Colony ground on Tuesday.
Aryan defeated Young Haider 3-2 via penalty shoot-out. Shoaib Ansari, Kashif Ansari, Naveed Ansari scored goals for the winning team while Abdur Ghafoor, Yusuf Ansari scored for the losing team.
In the second match, Al-Muslimi, Faruk Nagar Teka Naka, defeated Warrior Football Club, Samta Nagar 3-1. Saju, Anas Ansari and Shah Rukh scored one goal each for the winning team. Ravi reduced margin for the losing team. Naqeeb Ansari was the main referee. At the outset, the tournament was inaugurated by Rohit Yadav. Corporator Manoj Sangole, Suraj Awle, Bansik Karmore, Rohit Binkar and Tinku Kamble were present on the occasion.