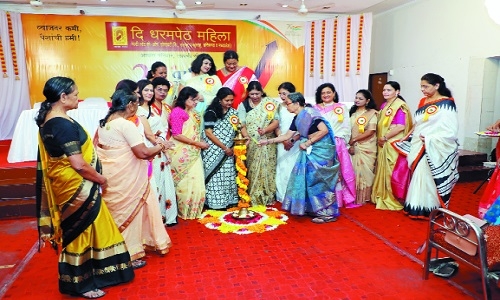 Business Bureau
The 28th annual general meeting (AGM) of The Dharampeth Mahila Multi State Co-operative Society Limited was held recently at Amrut Bhawanam on North Ambazari Road in the city. A large number of members of the society and its office-bearers attended the meeting. At the outset, President of society Nilima Kishor Bawane and others lit the traditional lamp. Director of the society Anagha Vaidya gave the report for the last financial year.
Nilima Bawane highlighted that the society has posted business mix of Rs 2,041 crore in the fiscal ended on March 2022. The society registered net profit of Rs 6.14 crore in the fiscal.
Bawane also announced the dividend of 8 per cent to the members of the society. She also said that the society has offered various services to many senior citizens at their door steps during the recent pandemic.
In addition to this, the society has decided to felicitate all its members who are above 75 years to mark the 'Azadi ka Amrut Mahotsav'. Similarly, the society also felicitated all meritorious students on the occasion. Vice President of the society Sarika Pandse placed the report before the members who unanimously approved it. Director Neelam Jaiprakash Bowade proposed the formal vote of thanks while Deepali Ghonge conducted the proceedings. Vrunda Shende and others ere also present.