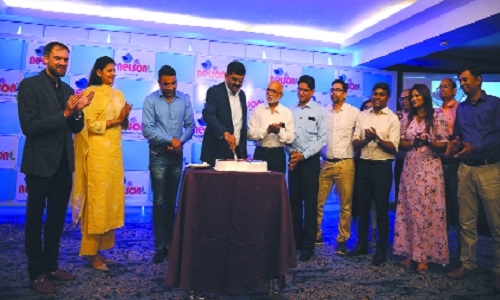 Business Bureau
Nelson Neurosciences Center of Nelson Hospital celebrated its first anniversary with great zeal at Hotel Center Point on August 21. Nelson Hospital added this additional super-specialty for adult, pediatrics and neonates under its banner along with Mother and Child and the Center was known as Nelson Neurosciences Center, at Dhantoli Nagpur.
The department of Neurosciences doctors team is headed by Dr Sandeep Iratwar, Neuro surgeon, along with Dr Sanjay Ramteke, Neuro Physician, Dr Jeevan Kinkar, Neuro Physician, Dr Shreekant Kalbagwar, Dr Milind Deogaokar, USA and Dr C Deopujari, Mumbai. The anniversary programme was started with the cake cutting in the presence of MLA Sameer Meghe, Director Radha Sahu, CA Ganesh Kharode, CFO, Dr Sonalkumar Bhagat Center Head, Dr Sandeep Iratwar, Dr Sanjay Ramteke, Dr Jiwan Kinkar, Dr Shreekant Kalbagwar, Dr Pompy Devraj and others. On August 22, the center conducted an open forum with patients and doctors. The patients were called to present their opinion on the treatment received at Nelson hospital.
Dr Sandeep Iratwar gave the case presentations of the patients operated at Nelson Neuroscience Center along with Dr Shreekant Kalbagwar. Jyotsna Kurhekar from Beti Bachao & Sobath Palak NGO, Sheetal Santosh Kokulwar - Women Idol of Maharashtra, and Santosh Kokulwar - Best Educationist of Maharashtra, were present as the guests.
To mark the anniversary, the center is offering free OPD checkup, free second opinion on surgical patients and 50 per cent discount on all brain and spine surgeries till August 31 (terms and conditions apply).