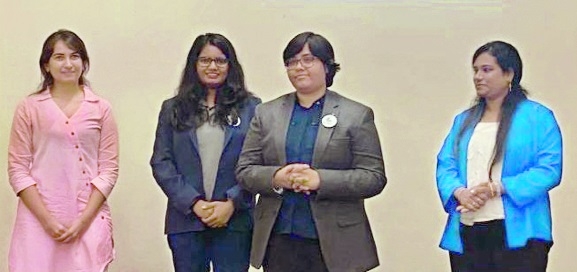 Winners of the TiE Nagpur's Women Pitching Competition.
Business Bureau :
City-based healthcare product manufacturing startup - Werehab Technologies Private Limited on Monday won the TiE Nagpur's Women Pitching Competition 2022 Chapter Finale. The startup promoted by two women entrepreneurs - Dr Vishawal Padole and Sukanya Dikshit is manufacturing an innovative product called 'smart insole' fitted with electronic sensors which monitor movement pattern of human body to understand various diseases. The winner will now get an opportunity to pitch at the TiE Global event TiE Global Summit 2022 to be held in Hyderabad between December 12 and 14.
The competition, which saw participation of five women-promoted startups, was held Chitnavis Centre, Civil Lines, Nagpur. The runners-up were Neha Lande – Co-founder- OKO ICare Solutions and Shraddha Mange – Co-Founder -AHUM. The jury for the chapter finale was Shivaji Shriram Dhawad, COO – InFED, IIM – Nagpur, Raghavendra Deshmukh, Director – Incubein VNIT, Shashikant Chaudhary, Co-Founder – BabyVerse, Angel Investor, Serial Entrepreneur, R Ramakrishnan – Co-Founder – aXYNO Capital, Co-Founder – CoResource, Co-Founder – Eartha & Mackintosh Global. On the occasion Shashikant Chaudhary shared his insights on how importance are first 30 seconds in the pitching and the do's and don'ts that one must follow during the pitching. R Ramakrishnan gave feedback on slides that they had presented during the pitch. Raghavendra Deshmukh expressed happiness over the diversity in the sectors that women entrepreneurs are venturing into. Nitin Sachdeva, President TiE Nagpur, announced the winners and appreciated every moment of the event that glued the audience to wait for the results. Editor of The Hitavada Vijay Phanshikar; Charter Member – TiE Atlanta Rahul Bakane and others were also present on the occasion.