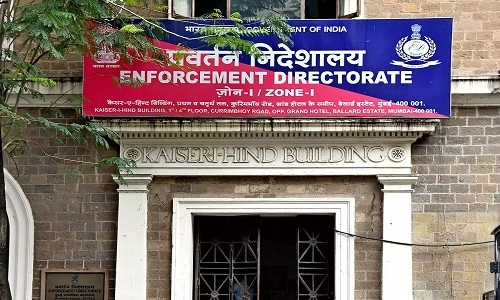 NEW DELHI,
ASSETS worth Rs 415 crore of arrested Maharashtra builders Avinash Bhosale and Sanjay Chhabria have been attached in the Yes Bank-DHFL bank loan fraud linked money laundering case, the Enforcement Directorate said on Wednesday.
Both the builders were taken into custody by the federal agency in the case in June and they are in judicial custody at present. The Enforcement Directorate (ED) had issued a provisional attachment order under the Preven tion of Money Laundering Act (PMLA) on Tuesday to attach the assets of Bhosale, worth Rs 164 crore, while Chhabria's assets are worth Rs 251 crore.
The attached assets of Chhabria are in the form of acel located in Santacruz, Mumbai worth Rs 116.5 crore, 25 per cent equity shares of Chhabria's company held in a land parcel located in Bengaluru worth Rs 115 crore, a flat located at Santacruz, Mumbai worth Rs 3 crore, profit receivable from a hotel belonging to Chhabria located at the Delhi airport worth Rs 13.67 crore and three high-end luxury cars worth Rs 3.10 crore, the ED said in a statement. The properties of Pune-based businesman Avinash Bhosale that have been attached are in the form of a duplex flat in Mumbai worth Rs 102.8 crore, a land parcel located in Pune worth Rs 14.65 crore, another Pune located land parcel worth Rs 29.24 crore, a land parcel in Nagpur worth Rs 15.52 crore and another portion of land located at Nagpur valued at Rs 1.45 crore, it said.