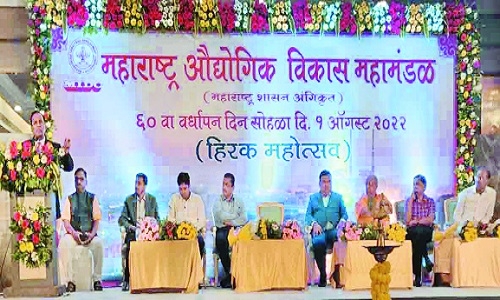 Business Bureau
MAHARASHTRA Industrial Development Corporation (MIDC) was established on August 1, 1962 and completed 60 years on August 1, 2022. On August 1, in the State, the Foundation Day was celebrated with great enthusiasm.
The Foundation Day was celebrated at Hotel Centre Point by MIDC, Nagpur Zone. All the members and their families participated in the function.
In the function, the members who had completed 25 years of their service were felicitated. The children of the members who had shown good results in their examinations were also feted. The main guest of the function Rangnath Naikade (IFS), Chief Conservator of Forest (Regional), Nagpur, chief guest Rajesh Zanzad, Chief Engineer, MIDC, Nagpur, Sunil Aakulwar, Superintendent Engineer, Pravin Jakhotia, Chief Accounts Officer, Mahendra Patel, Regional Officer, Captain Randhir, President of MIA, Hingna, Pradip Khandelwal, President of BMA and members of various organisations were present.
Naikade in his speech gave detail information about the history and work of the MIDC to the participants. He said, MIDC had done commendable job in the progress of Maharashtra and India. Giving examples from Mahabharat, he guided the officers who were present for the function. He also extended greetings to the participants present on the occasion. Pravin Jakhotia made introductory remarks and Dilip Jogave thanked the participants. Prashant Mendhi and Trupti Ingole conducted the proceedings.