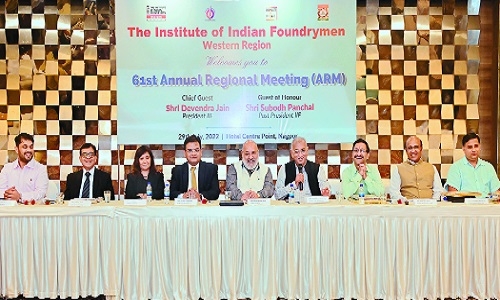 Business Bureau
The Institute of India Foundrymen (IIF) Western Region along with IIF Nagpur Chapter conducted 61st Annual Regional Meeting of Western Region here in the city recently. On the occasion, Anuja Sharma was installed as IIF Western Region Chairperson.
Manish Patrikar, outgoing Chairman IIF Western Region, gave a farewell address and thanked every one, especially Subodh Panchal and Mr Choudhary, MD MPD Nagpur for extending support to him.
Anuja Sharma spoke about her action plan for the year 2022-23. Sushil Sharma, National Secretary, IIF, congratulated the new team. Devendra Jain, President IIF, also expressed his views.
Western Region E-Magazine Foundry Talk, was launched by the National President during the ARM. The Western Region conducted its 6th council meeting under the chairmanship of Manish Patrikar.
IIF members from Gujarat, Madhya Pradesh, Chhattisgarh and Maharashtra attended the event. Prayut Bhamavat, Secretary, IIF, Western Region, proposed the formal vote of thanks.